SMARTPHONES: Apple Loses Trademark Case, in New China Setback
Bottom line: Apple's new loss in a China trademark dispute marks a minor setback, but is more symbolically significant as the latest in a sudden series of negative developments for the company in its second largest market.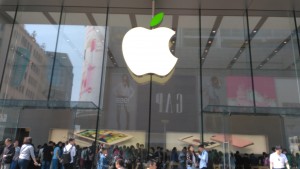 After a relatively long winning streak in China, Apple's (Nasdaq: AAPL) fortunes are suddenly looking much less certain in its second largest market. First the tech giant posted a big drop in quarterly China sales during its latest reporting quarter, and now it has just lost a trademark dispute with a local company over use of its iPhone brand.
This latest setback doesn't look that big for Apple in terms of money, since the winner in the dispute is a leather goods maker that will presumably use the iPhone trademark on products like wallets and clothing. But the loss is symbolic for a global giant that until just a few weeks ago was riding high in China on the back of a string of positive developments and media coverage.
According to the latest headlines, a Beijing judge has ruled that a company called Xintong Tiandi is the rightful owner of the iPhone trademark for use on leather goods in China. (English article; Chinese article) In this case it's somewhat significant that the court is in Beijing, since China's central government is trying to develop a group of judges in top-tier cities who can specialize in this kind of case. Thus this probably isn't simply a small-town judge who was bribed to give a verdict in Xintong Tiandi's favor.
The reports say that Apple first applied to register the iPhone trademark in China for computer hardware and software in 2002, but that application wasn't approved until 2013. Apple actually began selling iPhones in China in 2009. In the interval between its original trademark application and the China launch for its iPhones, Xintong Tiandi registered the trademark for use on its leather goods in 2007.
The court said that Apple couldn't prove that the iPhone name was well known in China before the popular smartphones began selling in China, and thus Xintong Tiandi's 2007 trademark registration was valid. As someone who was living in China before 2007, I can say with relative certainty that iPhones were already well-known in the country at that time, at least in big cities like Beijing and Shanghai. Back then there was also a vibrant gray market for iPhones that were smuggled into China via Hong Kong and other places.
The reports don't go into detail about what evidence Apple provided to try to show the iPhone brand was well-known in China before 2007, so it's hard to comment too much on the court's decision. But the ruling certainly does seem to favor a local company over a big multinational like Apple.
Earlier Trademark Troubles
This particular ruling marks the second big loss in a trademark dispute for Apple in China, following a much higher profile case 4 years ago involving the company's iPad brand of tablet PCs. (previous post) That case ended in a settlement under heavy pressure from a judge, and saw Apple pay millions of dollars for the trademark to a struggling electronics maker.
As I've said above, this latest development looks relatively minor for Apple, since iPhone isn't exactly known for its leather goods and I doubt that Xintong Tiandi is a very big brand anyhow. But the news does come just a week after Apple reported its Greater China sales plunged by 26 percent in the first 3 months of this year. (previous post) Just a week earlier Apple's China online music and bookstores were also abruptly shuttered following an unspecified dispute with the nation's regulator. (previous post)
Before this string of setbacks, Apple had been doing quite well in China thanks to a strong campaign engineered by CEO Tim Cook, who was making at least 2 trips to the country a year to improve his company's image. It's probably premature to say that all of that hard work is now being undone, but I do expect we might see Cook making more trips to China later this year to try and bring some positive spin to his company.
Related posts:
(Visited 227 times, 1 visits today)