SMARTPHONES: Local Brands Nudge Apple Off China Tree
Bottom line: Apple's sudden loss of China market share to domestic rivals Huawei, Oppo and Vivo is a wake-up call that the tech giant needs to find new cutting-edge product areas to replace rapidly commoditizing smartphones.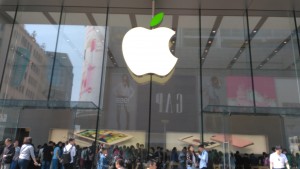 The latest message for Apple (Nasdaq: AAPL) is coming in loud and clear from China, saying the company needs to find the next big thing if it wants to retain its crown as a global high-tech leader. That message has been playing out from numerous sources throughout this week, starting with Apple's own latest financial results that showed its sales plummeted in China in the first quarter of this year.
That report was quickly followed by a flurry of new data from various research houses, all showing that Apple was rapidly losing China market share to homegrown up-and-comers like Huawei, as well as a recently rising duo of Oppo and Vivo. Adding insult to the injury was the disclosure by billionaire investor Carl Icahn that he recently dumped his Apple shares over concerns about the company's eroding position in China.
The bottom line is that smartphones are quickly becoming a commoditized product that anyone can make, following a similar path of older products like televisions, cameras and most recently PCs. Accordingly, Apple's nascent downturn in China, whose severity surprised even me, is almost certainly the start of a broader global decline for its popular iPhones worldwide. Those smartphones were once trailblazers, but are increasingly being copied and sold for much cheaper prices by Chinese manufacturers.
A subplot of this story is the rapid rise of Huawei, Oppo and Vivo, which were the world's third, fourth and fifth largest smartphone brands in the first quarter of this year, according to data released by market research firm IDC just after Apple announced its results. I've been chronicling Huawei's rise for nearly a year now, but the ascendance of Oppo and Vivo is more recent. That pair are actually related through a Chinese common major shareholder called Bubugao, which is arguably now the world's third biggest smartphone maker since Oppo and Vivo combined have more market share than Huawei.
We'll return to that subplot shortly, but first let's recap the rapid flurry of headlines that saw Apple post its first-ever quarterly decline in iPhone sales led by a steep drop in China, its second largest market that accounts for about a quarter of revenue. Apple's global iPhone sales fell 16 percent in its latest reporting quarter, but its broader sales for all products in China tumbled by an even steeper 26. (English article)
Here we do need to point out that the China figure was for all products, not just iPhones, and that the China figure also included Taiwan and Hong Kong. But the bottom line is that iPhones are easily Apple's best-selling product in China, and it's probably safe to say that iPhone sales fell by more than 20 percent in the market in this year's first quarter.
Slipping China Market Share
In terms of market share, I've seen several reports that indicate Apple's share of the China smartphone market stood at about 12 percent in this year's first quarter, down from about 15 percent at the end of last year. The latest global results from IDC show Apple's global market share dropped 3 percentage points to 15.3 percent in this year's first quarter, making it the world's second biggest brand behind Samsung (Seoul: 005930). (press release) Huawei's market share rose 3 percentage points to 8.2 percent, while Oppo and Vivo's combined share more than doubled to nearly 10 percent of the global market.
While Huawei, Oppo and Vivo are emerging as new leaders in the field, the battle for supremacy in China — the world's largest smartphone market — has been quite bloody. That fact is revealed in the latest results from the publicly traded Better Life, which owns controlling stakes in both Vivo and Oppo, and reported flat revenue and a 30 percent profit decline in this year's first quarter. (company announcement)
The messy China situation led Icahn to say sell his entire stake in Apple, as he specifically cited the risk posed by the ultra competitive market. Icahn first bought into Apple 3 years ago, and owned 45.8 million shares at the end of last year. He suggested that he made $2 billion on his Apple investment over that period before recently selling his stake.
The gloomy outlook, much of it centered on the tumultuous picture in China, has pressured Apple's formerly high-flying stock. The shares are down 17 percent since mid-April, including a 9 percent drop in the last 3 trading sessions. It's probably a bit premature to write an epitaph for the iPhone in China or elsewhere just yet. But this steady encroachment by the Chinese brands should certainly come as a wake-up call to Apple that smartphones are past their heyday and quickly becoming a commoditized product that anyone can make.
Related posts:
(NOT FOR REPUBLICATION)
(Visited 269 times, 1 visits today)