SMARTPHONES: Huawei Makes Splash in China with High-End P9
Bottom line: Positive buzz in China bodes well for Huawei's latest higher-end model, the P9, which could help the company meet its target of selling 10 million of the smartphones and continue its positive momentum.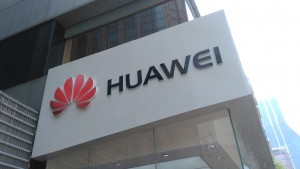 A week after unveiling its new mid-range smartphone at an event in London, the fast-rising Huawei has launched the P9 at an event here in China that is drawing strong interest from media and fans attracted by its high-end camera. I visited a Huawei shop over the weekend on the popular Nanjing Road pedestrian street here in Shanghai, and was quite surprised to see large crowds checking out the new model.
Of course the crowds were even larger at the much bigger Apple (Nasdaq: AAPL) store just down the street, even though it's been a month since Apple launched its latest model, the small-screen iPhone SE. But the fact that Huawei could draw big crowds at all testifies to the company's recent growing momentum, as it looks to overtake Apple and Samsung (Seoul: 005930) to become the world's largest smartphone brand.
Somewhat surprisingly, there is no word of pricing for the new P9 in the Chinese media reports on the smartphone's launch, meaning Huawei may still be finalizing that part of its plans. The phone starts at 599 euros ($680) in Europe, putting it squarely in the mid- to upper-end of the smartphone spectrum. One of its distinguishing features is a camera designed by Germany's Leica.
Reports on the China launch don't contain much substance, probably because most of the details surrounding the P9 were announced in London. The reports do point out that the Shanghai launch event drew one of Huawei's biggest crowds of all time, around 5,000 people, testifying to the growing popularity of its smartphones. (Chinese article)
Huawei smartphone chief Richard Yu said in London he expects the P9 to sell at least 10 million units, which will be important for the company to beat its record sales of more than 100 million smartphones last year. (previous post) He didn't discuss P9 sales targets at the Shanghai event. But he noted that Huawei's last major mid-range model, the Mate 8, has sold 4 million units since its launch 4 months ago, averaging 1 million unit sales per month.
Success for the P9 in China will be critical for Huawei to continue its momentum in the global smartphone space. Huawei's China sales surged in the second half of last year, and in the fourth quarter it took the crown as the market's largest brand, ahead of Apple and homegrown rival Xiaomi. (previous post)
Positive Start
The buzz certainly looks positive for the P9, and the crowds at the Shanghai Huawei store are also reminiscent of the kind of chatter that only Apple can consistently generate. We'll have to see how Huawei prices the phone, though I expect it will be comparable or even a little less than in Europe. I do expect the model should be able to sell at least 1 million units globally a month, bringing it close to Yu's 10 million target by the end of the year.
I'll close with some separate reports on Huawei founder Ren Zhengfei, a former army engineer who is far more shy than Richard Yu and has only done a handful of media interviews in his lifetime. One report is quite whimsical, and comes from some fans who spotted Ren lining up in the taxi queue at Shanghai's Hongqiao airport. (Chinese article) The other comes from a magazine that has named Ren as China's second influential businessman, behind only Tencent (HKEx: 700) founder Pony Ma. (Chinese article)
The pair of reports nicely summarize Ren, an engineer by training who grew when China was still quite poor. He's quite well known for his frugality and low-key nature, as well as his vision that led him to set up his telecoms equipment company in the southern city of Shenzhen when China was just starting to experiment with market economics. Ren also looks quite wise for slowly handing over his business to a younger generation of new leaders like Yu, who are more savvy and knowledgeable about emerging new product areas like smartphones.
Related posts:
(NOT FOR REPUBLICATION)
(Visited 310 times, 1 visits today)