SMARTPHONES: Surging Huawei Set for Slowdown?
Bottom line: Reports of big sales target reductions could point to a looming slowdown for Huawei, as it tries to move out of low-end smartphones and into an increasingly saturated higher end of the market.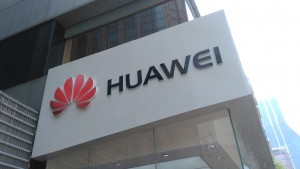 After posting phenomenal growth over the last year to become the world's third biggest smartphone brand, China's Huawei may be seeing a slowdown that's reportedly prompting it to sharply cut its sales targets for this year. If the reports are true, the downward revision would mark a sudden reversal for Huawei, which has been posting sales growth in the 50-60 percent range since the middle of last year when its recent surge began. Such a shift would hardly be unprecedented in the fast-changing smartphone world, though it would come as a slight surprise since the company's phones have become quite popular here in China, approaching the status of global superstar Apple (Nasdaq: AAPL).
According to a Chinese media report, which cites unnamed sources, Huawei was originally hoping to boost its smartphone sales by nearly 60 percent to 160 million units this year, following its record-breaking sales that slightly topped the 100 million mark in 2015. (previous post) I'll admit that I would have believed that figure was reachable, since all the reports I've seen consistently show Huawei posting that 50-60 percent year-on-year sales growth in recent quarters.
That includes the latest figures from IDC, which show that Huawei's sales grew a whopping 58 percent in this year's first quarter to 27.5 million units, giving it 8.2 percent of the global market. That represented a 3 percentage point rise from the same quarter a year earlier, and made Huawei the undisputed third largest global smartphone brand, behind only Apple and the struggling Samsung (Seoul: 005930).
But the sales may be sharply slowing in the current quarter if this latest report is correct. The report says that Huawei initially lowered its aggressive target to aim for a more modest but still impressive 30 percent growth rate this year, which would equate to about 130 million smartphones. (Chinese article) But now they're saying the company has lowered the figure further still to 120 million units, which would be an even bigger slowdown.
Moving Up Market
Such a slowdown would come as Huawei itself has reported brisk sales for its new P9 series, part of an effort to build more business in the middle- to high-end of the market. Huawei has said it has sold 2.9 million P9 and P9 Plus since they went on sale in April. That figure sounds relatively strong, though perhaps not as good as Huawei was hoping as it tries to cut back on lower-end models that carry much lower profit margins.
So, what's going on here? The easiest answer is that the Chinese media report is incorrect, and that perhaps news of the downward revision was put out by an envious rival like Xiaomi, which was once in Huawei's position but has fallen on hard times lately. But the report is in the fairly well respected Sina, and the numbers do sound like they could have come from Huawei's smartphone division head Richard Yu, based on my previous experience.
Yu realizes that low-end smartphones aren't a good long-term strategy, since China now contains more than a dozen companies in that crowded space selling models for $100 and less. Such phones make up the big majority of China's smartphone market, which is the world's largest but is showing rapid signs of slowing due to saturation and lack of compelling new features. So one could surmise that if the figures are true, perhaps Yu has decided to downplay the low-end business faster than he originally planned.
The other possibility is that the movement into the higher end hasn't been as smooth as Huawei had hoped. Even Apple has experienced some troubles in that regard, with its iPhone sales posting their first-ever 16 percent drop in its latest reporting quarter, which included an even larger drop in Greater China. And then there's the fast-fading Xiaomi, which held the "flavor of the day" title in China's smartphone market in 2014 before stumbling badly last year, partly on its inability to move into higher-end models.
Based on all of the above, it's probably fair to say that Huawei's growth may be starting to slow as the momentum fades from its recent surge. But of the course the big question will be how fast the slowdown is occurring. We'll have to wait for second-quarter data to get the answer to that question. If the Chinese media reports are correct, we might expect to see Huawei's growth slow to the 30 percent range during the quarter or even less, perhaps leading some to predict it could follow in the footsteps of others like Xiaomi.
Related posts:
(NOT FOR REPUBLICATION)
(Visited 79 times, 1 visits today)