SMARTPHONES: Stumbling Apple Brings R&D Center to China
Bottom line: Apple's announcement of its first China R&D center looks like a hastily crafted initiative aimed at generating positive publicity, but is unlikely to halt its recent slide in the market.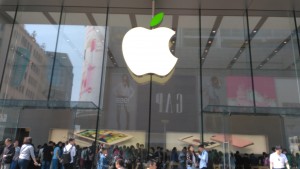 Just a day after new data showed just how badly Apple (Nasdaq: AAPL) is stumbling in China, the iPhone maker has finally taken a step it should have made long ago with the announcement that it will build an R&D center in the country. Apple's hesitation over such a move has been quite embarrassing, especially since China has surged to become its second largest market in the last 3 years. The lack of such investment is also embarrassing for China because India, a much smaller market for Apple, became the first Asian recipient of an R&D center from the US tech giant earlier this year.
There are a number of threads to this story building up to the latest announcement, which came from Apple chief Tim Cook who is back on yet another trip to China. (English article; Chinese article) This latest visit follows one in May, when Cook announced a $1 billion investment in leading Chinese hired car services firm Didi Chuxing. (previous post) Cook went to India after China on that trip, and announced his company would build a major R&D center for its mapping products and services.
I wrote at the time that the 2 awards reflected different realities of the China and India markets. Such a major investment in a large partner like Didi looked like a smarter move in China, since it would shield Apple from intellectual property (IP) theft that is rampant in the country. By comparison, India has a much longer history of better IP protection due to its decades as a leading global software development center.
Apple didn't need to invest in China for years, since the country was a low priority in the days of former CEO Steve Jobs. But that has changed rapidly over the last 5 years, as all 3 of China's large telcos signed contracts to offer iPhones. That support, along with the Apple's strong reputation as a premium brand, briefly propelled the iPhone to the top of China's smartphone market and saw Apple get as much as a quarter of its revenue there.
But times have changed over the last 6 months, prompting at least two trips by Cook to China to try and counter the trend. In a push to burnish Apple's name both among consumers and officials, Cook and Apple have previously announced a number of investments in China, including solar power plants and a major build-up of Apple Stores.
Short on Details
But now the company is officially opening an R&D center, though details on the move are quite vague. Based on the description in media reports, it looks like Apple will initially consolidate some of the various teams it has around China into a single center at a location that wasn't disclosed. Companies like Apple frequently have such teams in many of the larger markets where they do business, mostly working on product customization. But Apple and other big tech companies often try to limit the number of larger centers where they create more fundamental products that are sold globally.
The usually low-key Cook held a media event to discuss the new center, in remarks that imply it will eventually develop advanced technologies for Apple products. The vague nature of the announcement hints that the plan was assembled more hastily than the India center, which was accompanied by very specific details. One Chinese media report is saying the center will be Apple's first independently operated R&D facility in Asia, in what looks like an attempt to show it will be more important than India's.
Apple certainly has plenty of reason to make such an announcement at this time, as its China business experiences a sudden and rapid decline that has become quite common for many brands in the fiercely competitive market. Data released this week showed that iPhone sales tumbled 32 percent in the second quarter, as Apple's share of the world's largest smartphone market plunged to 7.8 percent from 11.9 percent a year earlier.
As someone living here in China, this rapid plunge isn't all that obvious, since Apple still enjoys quite a strong reputation here and people are willing to pay big premiums for their iPhones. Part of the issue probably lies in the fact that Apple hasn't launched a major new product this year, even as Chinese brands have flooded the market with newer models.
Those same Chinese brands, led by hometown superstar Huawei, are also improving their reputation for quality and dependability, leading many local consumers to question why they should pay hundreds of dollars more for an iPhone. If that's the case, this new R&D center may help Apple to win some favor among government officials, but it might be far less effective at halting the company's sliding fortunes in the cutthroat China market.
Related posts:
(NOT FOR REPUBLICATION)
(Visited 122 times, 1 visits today)