RETAIL: Wal-Mart Talks Up China Commitment
Bottom line: Wal-Mart's discussion of plans to open 115 new China stores and several new local initiatives look like mostly PR to show its commitment to the market, following its announcement of a major global overhaul earlier this month.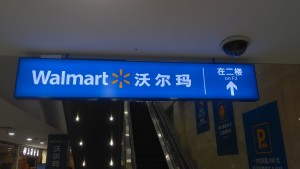 Just a week after announcing a major retrenchment for its global empire, retailing giant Wal-Mart (NYSE: WMT) is saying it will continue to open new stores at a brisk pace in China. The vast and somewhat unique China market also looks set to become a testing ground for new concepts, with Wal-Mart discussing plans to open its first shopping center format and also to expand its cross-border e-commerce business in the country.
The latest developments are discussed in a local media interview with a top Wal-Mart China executive, which is probably timed to quash any potential buzz that the company is planning a similar retrenchment in China to the global plan announced earlier this month. That plan saw Wal-Mart announce it will close 269 stores this year, representing just over 2 percent of its global count of 11,600.
In this new interview, a Wal-Mart China vice president discloses that the company plans to open 115 stores in the market between 2015 and 2017. (Chinese article) While that number looks relatively aggressive, the report also points out it represents a relative slowdown from Wal-Mart's record of 30-40 new store openings annually in recent years.
The executive also says Wal-Mart will open its first shopping center in China this year in the southeastern seaside city of Zhuhai, near the border with the gambling boomtown of Macau. Investment in the center looks relatively modest at 600 million yuan, or nearly $100 million, indicating this will probably be a small shopping center to start with.
The executive adds that Jiangxi province, another area off the beaten track, will be the location for a future shopping center, indicating this particular initiative won't be coming to big cities like Beijing and Shanghai anytime soon. He adds that the experiment is a response to changing retail patterns, including rising costs of real estate and also the e-commerce challenge that is particularly big in China.
Expanding Cross-Border E-Commerce
The executive also says that Wal-Mart plans to boost its cross-border e-commerce activities in China, though he doesn't offer any detail about that particular initiative. Such an effort would probably mimic other similar recent moves in China by global giant Amazon (Nasdaq: AMZN) and local leaders Alibaba (NYSE: BABA) and JD.com (Nasdaq: JD). That trio are sharply boosting their offerings of imported products for China's growing legions of middle class buyers, who often trust such goods far more than domestically produced equivalents.
Wal-Mart's show of commitment to China comes as it grapples with a local retailing landscape that is rapidly shifting towards e-commerce. That transformation has caught many of the world's top retailers by surprise, prompting big names like Tesco (London: TSCO) and Best Buy (NYSE: BBY) to abandon the market in recent years after failing to gain traction partly due to the e-commerce challenge.
Wal-Mart was one of the few major global retailers to recognize the importance of e-commerce in China early on, and made its move into the space by purchasing Yihaodian, a promising second-tier player that had strong potential. But it made the mistake of leaving Yihaodian's previous management in place after the purchase, and failed to integrate the business with its network of traditional brick-and-mortar stores.
After more than a year without any major progress, Wal-Mart finally pushed out Yihaodian's founders last summer, and installed its own people to  run the company. (previous post) Thus the cross-border e-commerce commitment could be part of a broader Yihaodian overhaul, which would see the site try to better leverage Wal-Mart's vast global product network that is one of its biggest assets.
Despite all the upbeat talk, this latest interview really does look like mostly public relations, aimed at demonstrating Wal-Mart's commitment to China in the face of its broader global overhaul and the e-commerce challenge.
The shopping center initiative looks slightly interesting, though its confinement to smaller markets and the relatively low investment make it look like a low priority. The cross-border e-commerce ramp-up looks a little bolder because it draws on Wal-Mart's global connections. But even then, the move is a little late and largely imitates a broader recent movement by most of China's other major e-commerce companies.
Related posts:
(NOT FOR REPUBLICATION)
(Visited 82 times, 1 visits today)