RETAIL: Alibaba Gets Appetite for Ele.me, Indigestion from Meituan
Bottom line: A new landscape in China's O2O restaurant services market is taking shape around the "big 3" firms of Alibaba, Baidu and Tencent, with a Tencent-backed Meituan-Dianping the most likely to succeed.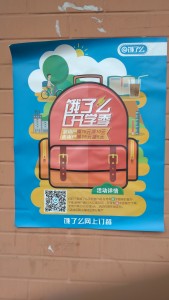 We're seeing more signs of a major shuffle in the China market for online-to-offline (O2O) dining services, with e-commerce leader Alibaba (NYSE: BABA) at the center of 2 major new developments in the space. One would see Alibaba invest $1.5 billion for about a third of Ele.me, the leader in O2O takeout dining services. The other has media reporting that Alibaba is looking to sell its 7 percent stake in Meituan-Dianping, China's recently formed leading group buying site that operates a rival takeout dining service.
The big driver behind both of these stories is a major consolidation taking place in the O2O marketplace, where money-losing companies are suddenly scrambling to find wealthy backers after being cut off by their more traditional funding sources. Many of those companies have found a receptive audience from China's cash-rich "big 3" Internet titans of Alibaba, Tencent (HKEx: 700) and Baidu (Nasdaq: BIDU).
We'll begin our O2O consolidation round-up with Ele.me, which was one of the earliest major players to discover the potential of offering Internet-based restaurant ordering and delivery services. According to the latest reports, a deal still under discussion would give Alibaba 30 percent of Ele.me for its $1.5 billion investment, and would value Ele.me at $4.9 billion. (English article; Chinese article)
Word of this possible new investment comes a couple of months after earlier reports said that Ele.me was in desperate need of cash and was looking to sell some or all of itself. (previous post) Ele.me's dire situation is the direct result of intense competition that has blossomed in the sector over the last year, with Meituan, Baidu, Alibaba and several other independent rivals all ramping up their spending in the area.
The latest reports note that an alternate partner for Ele.me could be Dianping, which was one Ele.me's earlier investors and is now merging with Meituan. But Ele.me has said it's less interested in such a tie-up with the new Meituan-Dianping. That provides a nice transition into the second news item, which says that Alibaba is shopping around its roughly 7 percent stake in the new Meituan-Dianping. (English article; Chinese article)
Alibaba owns the Meituan-Dianping stake through a previous investment in Meituan before the merger. But Tencent also holds a major stake in the new company through its own previous investment in Dianping, and is now in talks to lead a new $1 billion fund-raising round for the merged company. That fact led me to observe that Tencent appeared to be making a somewhat clumsy attempt to take control of Meituan-Dianping, and that Alibaba was being pushed out. (previous post)
Alibaba-Meituan Discord
Reports over the past week have also pointed to growing discord between Meituan and Alibaba (previous post), and now these latest reports of Alibaba's plans to sell its Meituan-Dianping stake seem to confirm a divorce is quite likely. If everything moves ahead quickly, a new landscape of O2O restaurant services backed by each of the big 3 Internet companies could emerge over the next few months.
Tencent would become the controlling stakeholder of Meituan-Dianping, giving it strong assets from Dianping's popular restaurant ratings and Meituan's take-out delivery services. Alibaba would become Ele.me's controlling stakeholder, and combine the company with its own much smaller Koubei take-out dining service. Last there's Baidu, which is making its O2O push using its recently acquired Nuomi group buying site and its own-branded take-out delivery service.
The arrival of such wealthy backers to this story means that competition is likely to remain fierce in the O2O restaurant services business over the next 2 years. That's because all 3 of the big Internet companies are very cash rich, and Baidu and Alibaba in particular have both shown a willingness to spend lavishly and incur big losses in order to gain market share. There's probably room for 2 major players over the longer term in such a big market like China, meaning one of the big emerging new companies could quite possibly fail when all is said and done.
I would probably give Dianping-Meituan the best chances of success, since both companies were well established and well-run before their merger, and Tencent will offer lots of competitive advantages via its popular QQ and WeChat social networking services (SNS). Among the other 2, I would give Alibaba a slightly better chance of survival since Ele.me has a longer history and has also developed a strong reputation in the take-out dining space.
Related posts:
(NOT FOR REPUBLICATION)
(Visited 110 times, 1 visits today)