FUND RAISING: Bike Sharing Firm Ofo Raises Funds, ZTO Files for NY IPO
Bottom line: ZTO's proposed New York IPO is getting modest interest due to concerns about competition in the parcel delivery sector, while bike sharing service Ofo could make its own offshore IPO in the next 3 years.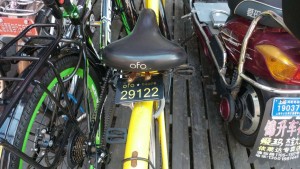 Just a day after I noted the disappearance of a previously discussed New York listing plan by parcel delivery service ZTO Express, the company has re-emerged in the IPO headlines with a filing saying it plans to raise up to $1.5 billion. At the same time, an intriguing bicycle-sharing service called Ofo is also in the fund-raising headlines, picking up a smaller $130 million in new money from its own impressive list of investors that includes ride-sharing giant and Uber-killer Didi Chuxing.
Of these 2 latest stories, ZTO comes from the most profit-challenged group of parcel delivery companies that have boomed in sync with China's e-commerce explosion. But intense competition in the space means that most of these companies are losing massive money, which is why they are looking to capital markets to raise more funds.
Reports of ZTO's IPO plan first emerged back in February, and media reported in July that it submitted a non-public document seeking to raise $1-$2 billion. The new filing of its prospectus is the first official public document we've seen for the New York IPO. (Chinese article) The $1.5 billion fund target is in line with the amounts previously discussed, indicating the offering has probably gotten a so-so but not great reception.
I was quite surprised to read that ZTO is actually profitable, generating net earnings of 1.3 billion yuan ($194 million) on revenue of 6.1 billion yuan last year, and a 770 million yuan profit on 4.2 billion yuan in revenue in the first half of this year. That would make it one of the few companies that is profitable in the space.
The company has quite a few big-name investment banks underwriting the offering, including Morgan Stanley, JPMorgan, Credit Suisse and Goldman Sachs, so it's not surprising that demand has been relatively strong. I suspect a big part of the reason is it's not stronger might be suspicions that ZTO's big profits were created with help of accounting tricks, and probably worry its financials could deteriorate sharply after an IPO.
Bike Specialist
Next there's Ofo, which I first wrote about a few weeks ago after its bikes started appearing in huge numbers on the university campus where I teach in Shanghai. (previous post) That mention wasn't really very financial, unlike the latest news that says the company has just raised $130 million in its third funding round. (English article; Chinese article)
Most of the funds came from fading smartphone sensation Xiaomi, as well as well as American hedge fund Coatue and the private equity arm of local financial services giant Citic. The new announcement comes just weeks after Ofo said it received millions of dollars in new investment from Didi Chuxing, the homegrown private car services firm that made headlines a few months ago when it announced it would merge with the China arm of Uber.
When I wrote about Ofo a few weeks ago, I was a bit skeptical about its chances for success due to a lack of community spirit in China that is necessary to make such services work. I still feel that way, even though the concept of such a service that uses GPS technology is still interesting. Regardless of any problems it encounters, I do expect that Ofo and a rival service called Mobike will grow quickly in the next 2-3 years, and one or both could attempt IPOs by 2019.
Related posts:
(Visited 392 times, 1 visits today)