Shanghai Street View: Biking Revival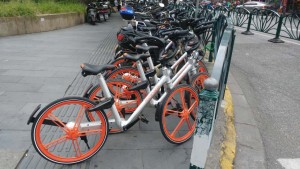 The fast lanes of Shanghai's streets have been full of change these last few months, in a campaign by thousands of police and other assistants to tame our unruly traffic. But this week's column takes us instead to the slower lanes of the streets of Shanghai, where a quieter revolution is reviving China's bicycling tradition.
In a somewhat unusual twist, this new revolution is both high-tech and low-tech at the same time, involving the roll-out of two new Internet-based leasing services deploying thousands of very basic bikes in the city. The revolution seems to be centered in my own stomping grounds in the Hongkou and Yangpu districts, due to the high concentration of wide streets, and students and young professionals who are the primary audience for such services.
The movement is seeing the near simultaneous rollout of two different services, one based at Fudan University where I teach and the other throughout the Yangpu District that includes Fudan and Tongji universities, as well as an emerging high-tech office district in the Wujiaochang area.
I first noticed the Fudan-based program a few months ago when hundreds of yellow bicycles suddenly started appearing on campus bearing the service's name, Ofo. The other service, called Mobike, only caught my attention in the last few weeks, as hundreds of the company's signature gray and orange bikes began appearing in my Hongkou neighborhood and also in adjacent Yangpu.
As a longtime China resident, I find this return of biking culture quite comforting, since it represents a bit of stability and also nostalgia in a society where rapid change is the norm. But at the same time, I do fear these two services will face a difficult road ahead, due to lack of respect from some users who do things like damage bikes and take them out of broader circulation for personal use.
Communal Service
The idea behind the programs is quite communal, and works if everyone uses the bikes only when they need them to ride short distances and then parks them in easy-to-find places for others to use. The two services are slightly different, but each uses the same basic principal of communal use for this basic form of transport. Users for both services must register and link their accounts to a debit card, credit card or other form of payment.
They then input bike-specific information from a license plate or QR code whenever they see an idle bicycle they want to use. The service registers their name with that particular bike and then gives them information to unlock it. When the person reaches his destination, he officially "closes" the transaction and locks the bike, and money is deducted from his account. Ofo charges based on distance traveled, while Mobike charges based on the time of use. Fees in both cases are quite small, usually a few jiao for a half-hour ride.
Perhaps not surprisingly, both services have come to Shanghai after earlier launches in Beijing, which is probably China's most bike-friendly city due to its flatness and wide streets. Many of my fondest memories of living in China in the 1980s revolve around bicycles, which were the main mode of transport back then for average people. Most bikes in that era were truly clunkers, and it was quite difficult to pedal very fast. As a result, most bike rides were usually leisurely affairs, reflecting the slower pace of life back then.
Zip forward to the present, when this new generation of Ofos and Mobikes are also quite basic and therefore not that easy to ride. I've used the service several times at Fudan, and the seats are almost always far too low for someone like me with long legs, and in one case the seat itself was broken. I still used the bikes because the distances were short and riding was much faster than walking. Still, I don't know if I would become a long-term user.
Other reports have spotlighted another type of problem, namely that some people lack the public spirit needed to make this kind of product work. Those reports show that some people selfishly ride bicycles to their destinations and then park them in places where others can't easily find them, so they can use the bikes later themselves. Other cases simply involve people who ride the bikes carelessly and end up damaging them, since there's no real penalty for causing such damage.
It's still early days, and it's quite possible both programs could ultimately do quite well, especially if their creators can tweak the systems to minimize abusive practices. But finding such solutions could be difficult for such a system that relies so much on a community spirit to succeed. Such spirit is indeed growing in China, but has a long way to go and still lags far behind places like Taiwan and Japan here in Asia, and most major western countries.
(Visited 269 times, 1 visits today)