LEISURE: Crowds, Prices to Challenge Shanghai Disney after Festive Opening
Bottom line: The new Shanghai Disneyland may ultimately need to lower prices and control admittance to avoid negative publicity that could hurt its image, forcing analysts to lower some earlier bullish forecasts for the resort.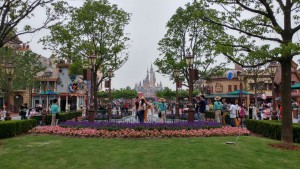 I do feel like I've written just a tad too much about the new Disney (NYSE: DIS) Resort here in Shanghai, which has just held its carefully scripted grand opening with surprisingly few glitches or negative publicity. But then again, the $5.5 billion investment is likely to be the largest for China this year, and Disney has averaged less than one new park per decade since opening its first Disneyland in Los Angeles in 1955. And based on previous experience, the new Shanghai Disney resort may also land at the center of at least a few minor scandals before it finally finds a more stable long-term footing, which could include a tempering of initial bullish profit forecasts.
The park's official grand opening on Thursday has been all over the headlines here in Shanghai, featuring speeches by Disney chief Bob Iger and Chinese Vice Premier Wang Yang. The former read a message from US President Barack Obama, while the latter read from Chinese President Xi Jinping, showing the importance that business and political leaders place on such a major cross-border investment. (English article)
Iger said Disney holds out big hopes for the park, and that work has already begun on expansions that will add even more attractions. Such expansions are quite common not only at Disney but any major theme park, which often start with a basic footprint and then gradually build it up to give people reasons to keep coming back.
Disney estimates that 330 million people live within a 3 hour radius of Shanghai, providing a huge audience who could come for overnight or day visits. Many analysts also say the park could become Disney's most profitable in the world, drawing on the popularity for Disney characters in China and also booming demand for world-class entertainment from increasingly affluent Chinese consumers.
Crowds, High Prices Likely to Weigh
Now that we've gotten past all those big picture items, we should focus on the present and what's likely to happen in the park's first half-year of operation and beyond. The opening day was notable for its lack of lines at the park's major attractions, at least according to the reports I read, which cited wait times of half an hour or less for even the most popular rides.
That contrasted sharply with my own experience during a visit on one of the park's preview days, when most rides required a wait of at least an hour and the most popular one had a staggering wait of more than 5 hours. I do suspect that Disney underestimated Chinese tolerance for waiting in long lines, and also the Chinese love of "famous brands".
In this case, a few rides have already gained larger-than-life reputations, meaning that Chinese feel they must personally experience such rides or their trips will be incomplete. That could force Disney to re-think some of its strategies, and possibly lower the number of people it admits to the park each day to avoid too much negative publicity about long lines.
Another negative point that has been common in the headlines is high prices. The park's ticket prices are actually the cheapest of the 6 Disney resorts worldwide, but also the most expensive as a percentage of average income of local residents. Chinese consumers have shown a major tolerance for accepting high prices at tourist destinations, as evidenced by ticket prices that are often quite high for many of their own domestic attractions.
But that said, Chinese do seem to hold foreigners to a higher standard than their own companies and might start to complain more loudly if they feel Disney and restaurants, shops and hotels that are part of the resort are charging unfairly high prices. Accordingly, we may have to see some downward adjustments in prices if the noise becomes too loud, which could again eat into some of the resort's projected profits.
It is noteworthy that neither high prices nor long lines were featured in opening-day stories, partly because the event was so controlled and focus was on the huge milestone the park itself represents. But after the ribbons are cut and executives and politicians are gone, the crowds and relatively high prices will still remain. That could pose 2 of the biggest longer-term challenges, which could ultimately force Disney and company watchers to pare back their extremely high expectations for the resort.
Related posts:
(NOT FOR REPUBLICATION)
(Visited 170 times, 1 visits today)