ENTERTAINMENT: Shanghai Disney Greets 1 Mln, Fends Off Critics
Bottom line: Huge publicity around the new Shanghai Disneyland ensures it will rapidly become a major new profit center after it opens in June, but will also expose Disney to a wide range of mini scandals like one involving its high food prices.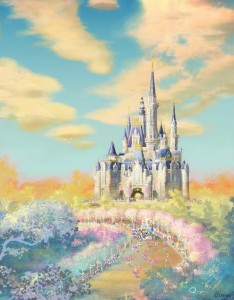 The hype is rapidly building as Disney (NYSE: DIS) gets set to launch its first theme park in more than a decade, attracting droves of visitors and also the first of what are likely to be many mini-scandals involving the $5.5 billion Shanghai resort. Leading the headlines is word that nearly 1 million people have already flocked to the areas outside the official park just to catch a glimpse of China's first Disneyland from the outside.
The park has also been admitting smaller numbers of guests on a trial basis to sample the rides and other attractions in the run-up to the official June 16 opening. Some of those got indigestion from the high prices for food at restaurants in the park, leading to a mini-firestorm of criticism that Disney has quickly tried to control.
Prices were always going to be a sensitive issue with the newest Disneyland in Shanghai, since China easily has the lowest income levels of any of the 6 destinations that are home to the prestigious resorts worldwide. By comparison, residents from the other locations in the US, Paris, Tokyo and Hong Kong all boast incomes that are many times higher than the average Chinese who usually earns less than the equivalent of $1,000 a month.
In a nod to that fact, Disney has been making big efforts to point out that its gate price of 370 yuan, or about $57, is the lowest for all Disney parks around the world. (English article) That's well below the $69 adult ticket price for Hong Kong and about $100 for the US, though it's just slightly lower than Tokyo. (previous post)
Chinese seem to have accepted the relatively high ticket prices, which would cost an average family of 3 about 1,000 yuan, or probably a fifth or more of the monthly salary for many. But some early visitors got a new round of sticker shock when they went to eat at some restaurants inside the park, and complained that the cheapest price for an average meal was around 70 yuan. (English article; Chinese article) By comparison, a comparable meal at an average KFC (NYSE: YUM), McDonald's (NYSE: MCD) or other local fast-food restaurant in China costs about half that amount.
Crisis PR Management
Disney has tried to defuse this first mini-scandal by pointing out that it did extensive research before setting its food prices, and also added that a wide range of dining choices are available and visitors can also bring their own packaged food into the park. I do expect this particular bit of negative news will blow over quickly, though we can probably also expect more similar "scandals" throughout the year.
One of those negative stories could be a boom in ticket scalping, since Disney disclosed that all tickets for the park are sold out through mid August. I expect that most tickets will sell out months in advance in the first year or two after the park opens, and that a sizable number of those will end up in the hands of scalpers that are a familiar part of the Chinese retailing landscape.
Taming those scalpers will be just one of the many tasks for Disney, which will also have to tame the huge crowds that are likely to flood not only to the park but also the hotel, retail and restaurant complexes surrounding it. Disney officials revealed that 960,000 people flocked to those adjacent areas in the first 23 days after they opened to the public, even though many shops and restaurants have yet to open. The crowds reached a peak on the May 1 public holiday, when 110,000 people came out on a single day to gawk.
All of this shows that Disney is doing quite well in generating the publicity it will need to make the park extremely popular and a major profit center for its theme park division. But such big success also has its drawbacks, since small issues like high-priced restaurants get magnified by media looking for any sensational Disney story they can find.
Related posts:
(NOT FOR REPUBLICATION)
(Visited 162 times, 1 visits today)