LEISURE: China Hot on Disneyland Buzz, Cool on High Prices
Bottom line: Shanghai Disneyland will suffer from teething problems in its first year, most notably negative publicity due to high prices in the park, but will gradually overcome that resistance to become one of Disney's most profitable resorts.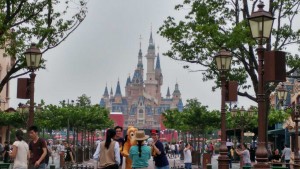 Everyone is buzzing about the looming opening of Disney's first mainland China resort, so I thought I'd weigh in with my own forecast for the $5.5 billion Shanghai Disneyland set to formally open this Thursday. In addition to all the facts and figures flying about, my assessment includes a personal visit to the newest Disneyland over the past weekend for a preview visit ahead of the grand opening. I thought the crowds would be restricted during the preview period to give a good impression to visiting reporters and VIPs, but was slightly surprised to find the place quite packed. But more on that shortly.
First let's begin with some quick history, and also a few comparisons with other Disneylands around the world. The new Shanghai park will only be Disney's 6th worldwide and its fourth outside the US, complementing overseas resorts in Tokyo, Hong Kong and Paris. Of the overseas locations, I was surprised to learn that only Tokyo is profitable, generating nearly $700 million in its latest fiscal year. (English article)
But the profitability factor is relatively minor for Disney, since the company's theme parks unit makes much of its money through management fees and sales of merchandise, food and other items within the parks. Plenty of those items were available during my visit, and the stores within the park were quite packed with curious consumers.
But that said, it was also quite noteworthy that the shortest line I encountered during my visit was the one in the large Disney merchandise store just inside the park entrance. The store itself was quite full, but I had to wait less than a minute to actually pay the relatively high 95 yuan, or about $15, for a set of Minnie Mouse ears that probably cost less than $1 to manufacture.
High Price Complaints
Such high prices are quite common in Disneylands throughout the world, though they've become a source of media attention here in China, including the relatively high prices for food in the parks. That's partly because Chinese consumers are more price-sensitive than their peers in developed markets. But they also earn far less than consumers in the other 5 markets hosting Disney parks. In the run-up to the park's opening, media have repeatedly pointed out that Shanghai Disneyland's ticket prices are the lowest in the world but also the highest as a percentage of income for the average resident of their host market.
While the lines at the souvenir shop were quite short, the same wasn't true for actual park attractions. I have to compliment Disney for developing a very sophisticated system for informing people of how long they will have to wait for each ride, which at least helps people to plan their visits. But the longest wait of 5 hours for the highly hyped Tron Lightcycle Power Run was just a bit out of control, and I didn't end up going on any of the rides during my brief visit.
Disney chief Bob Iger is giving numerous interviews in the run-up to the park's opening, pointing out how high-tech the new Disneyland will be. He's also noting how his company has learned from its past mistakes in Paris and Hong Kong, which lost $116 million and $19 million in the latest fiscal years, respectively.
All of that said, I'm mostly positive on this particular park, even though it will suffer many of the usual teething problems before finally becoming quite profitable. Chinese are accustomed to waiting in long lines, so that's not a problem. The park's clean and friendly environment will also appeal to many, who are likely to plan entire vacations around their visit. The biggest obstacle will be the high prices, though even that factor should subside as Chinese consumers become more comfortable with the idea that such parks often charge such premiums as part of their overall "experience".
Related posts:
(Visited 126 times, 1 visits today)