RETAIL: Quirky Conglomerate Sanpower Joins Bidding for McDonald's
Bottom line: Sanpower's bid to become McDonald's main China franchise partner looks like a long-shot, and China Resources or Beijing Capital Agribusiness are the most likely to emerge as winners in a deal valued at $2-$3 billion.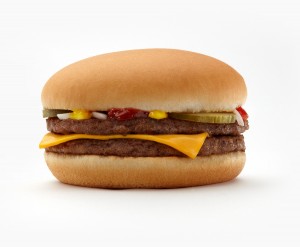 What does global fast-food giant McDonald's (NYSE: MCD) have in common with niche retailers Brookstone of the US and Britain's House of Fraser? The answer: All 3 could soon become linked through Chinese conglomerate Sanpower Group, while already owns the 2 niche retailers and is now making a much bigger bid for most of the McDonald's stores in China and Hong Kong. Sanpower is the latest company to enter the bidding for the China McDonald's stores, which are being sold as the US fast food giant moves to a franchise model in the market to replace its previous approach of self-owned stores.
Many China watchers, including myself, were quite surprised by the appearance of Sanpower's name as a candidate in the ongoing sale, which was first disclosed in reports back in April. (previous post) Others in the race include consumer conglomerate China Resources and chemical giant China National Chemical Corp (ChemChina). Those are being joined by a wide range of major domestic and foreign private equity firms, including New Hope, KKR, Bain, TPG, MBK, Baring and Carlyle.
All that said, let's zoom in on the latest report from Reuters that says Sanpower is teaming up in its bid with Beijing Tourism Group, bidding for the deal that could fetch around $3 billion. (English article; Chinese article) The report says that a half dozen companies are vying to buy the McDonald's stores in China and Hong Kong, which number around 1,700. So it appears there are at least 2 or 3 other bidders whose names haven't been disclosed.
Others that had expressed previous interest ahead of a June 20 deadline for bids included Beijing Capital Agribusiness Group, McDonald's current China partner, and GreenTree Hospitality. But it wasn't clear if they had submitted bid before the deadline earlier this week. The winner will receive McDonald's directly-owned stores, as well as a 20 year master franchise agreement with an option to extend that by another 10 years.
Diversified Sanpower
Sanpower started off mostly as a real estate company, but also lists financial services and retail among its other main business areas. The company's retail focus seems to be mostly centered on its quirkier purchases over the last 3 years of Brookstone and House of Fraser, 2 faded western chains with colorful pasts. The company also owns a major department store in its hometown of Nanjing, and made headlines in 2014 when it purchased LaShou, a former group buying website powerhouse whose star later faded.
McDonald's hometown rival Yum Brands (NYSE: YUM), owner of the KFC chain, is in a similar campaign to split off its China operations into a separate company. That effort would see Yum's China operations get their own major local investors and also make an IPO in either New York or Hong Kong. Both moves are part of a broader effort by both companies to localize their store operations in the huge but competitive China market, in part by moving to a more franchise-style model similar to what they use in the US.
All of that said, let's close by returning to the McDonald's story and trying to predict how it will play out. McDonald's will obviously want to maximize the sale price, but will also be looking for a strong strategic partner that has the necessary experience and connections to make the chain a success.
For that reason, I would give the Sanpower bid almost no chances of success, since the company is quite regional and doesn't appear to have much experience operating this kind of national restaurant chain. ChemChina does have some related experience through its ownership of a restaurant chain, though again it seems quite removed from the business. I've said all along that China Resources looks like one of the best partners due to its consumer background, but would add that Beijing Capital Agribusiness could also be a strong contender if it has made a bid.
Related posts:
(NOT FOR REPUBLICATION)
(Visited 205 times, 1 visits today)