IPOs: Yum Orphaned in China as CIC Abandons Stake Bid
Bottom line: CIC's withdrawal from the bidding for a stake in Yum's China unit represents a minor setback, but Yum's long history in the market makes finding major local investor less important.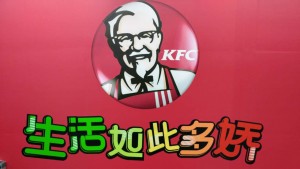 KFC parent Yum Brands (NYSE: YUM) has lost a major potential ally as it prepares to spin off its China business, with word that China's sovereign wealth fund has dropped out of the bidding for 20 percent of the unit. Reuters is reporting that China Investment Corp (CIC) abandoned its bid for a number of reasons, including Yum's refusal to sell a controlling stake to the new investor group. Yum has previously said it wants to sell just 20 percent of the China unit, which includes 7,200 stores. It also plans to sell more of the unit's shares through an IPO later this year in Hong Kong or New York.
The departure of CIC from the bidding process looks like a setback for Yum, which would probably like to bring in at least one major Chinese partner to help run the business. Yum is spinning off the China unit partly in response to pressure from activist investors, who say the business is undervalued as part of Yum's global operations, which include the KFC, Pizza Hut and Taco Bell fast food chains.
That said, it does seem like CIC's demands are rather high, since its requirement for control would presumably mean buying more than 50 percent of the unit — more than twice the 20 percent that Yum wants to sell. CIC's attractiveness to Yum as a partner is also probably somewhat limited, since the wealth fund has little or no experience running this kind of major restaurant business despite its strong ties with Beijing.
According to Reuters, the CIC consortium dropped out of the bidding not only due to the control issue, but also because it felt the investment might not meet the requirement for its target rate of returns. (English article; Chinese article) Earlier reports had indicated that the CIC group, which also includes KKR, was preparing to advance to a second round of talks, alongside rival bidders that included Singaporean sovereign wealth fund Temasek and another unspecified private equity group. (English article)
The latest valuation estimates on the Yum China unit are quite wide, varying from $8-$11 billion, or a quarter to a third of Yum's current market value. That would make a 20 percent stake sale worth about $2 billion, which looks quite affordable for either CIC or Temasek. I would expect Yum would pump around another 20 percent of the unit's shares into the IPO in Hong Kong or New York, with Hong Kong as my preferred choice.
Local Partner Needed?
The inclusion of a local partner is often critical to the success of this kind of retail joint venture, since Chinese companies are usually better at navigating a market that's quite unusual due to China's unique blend of socialism and capitalism. Rival McDonald's (NYSE: MCD) acknowledged that reality last month, with word that it was in talks to sell its China stores to local consumer conglomerate China Resources. (previous post)
In both cases, Yum and McDonald's already have plenty of experience in China and thus some might argue that finding major local partners is less important. Yum has been in China for nearly 30 years, and I personally remember dining at the first KFC at Tiananmen Square while living in Beijing in 1987. McDonald's came to China in the early 1990s, and thus also has more than 2 decades of experience in the market.
Moving back to the more immediate story, it does appear that CIC's departure leaves only 2 bidders for Yum China. Temasek looks like a strong contender as it's a sophisticated investor with many Chinese holdings. It's harder to speculate on the unnamed private equity group without knowing more about its members. If that group includes some big-name Chinese entities it could stand a stronger chance of winning the bid. But if both groups are mostly outsiders, the winning bidder will probably be whoever is willing to pay the most.
Related posts:
(NOT FOR REPUBLICATION)
(Visited 190 times, 1 visits today)