SMARTPHONES: Apple's Tumble from China Tree Accelerates
Bottom line: Apple could be on the cusp of a prolonged China downturn unless it can roll out smartphones with new breakthrough technology, as it gets overwhelmed by similar Chinese models that sell for far lower prices.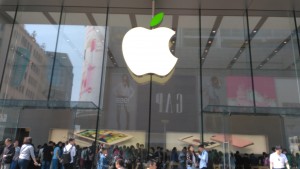 The latest financial report from Apple (Nasdaq: AAPL) shows the company continues to struggle as sales of its core iPhones pass their prime, and nowhere is that story more apparent than in China. The company's Greater China sales, which also includes Hong Kong and Taiwan, fell 33 percent in its latest reporting quarter, accelerating from an already sharp drop of 26 percent in the first 3 months of this year.
The rapid decline dropped China to Apple's third largest market globally from its former spot as the company's second largest, with Europe taking over the number two position. Apple's story is hardly unique, as the world's other global leader Samsung (Seoul: 005930) has also seen a sharp reversal over the last year after its own recent rise to take the global smartphone crown.
In both cases, China's role in the fall of both Samsung and Apple is quite clear. The country is already the world's largest smartphone market, and also one of its most competitive due to the recent rise of domestic brands like Oppo, Vivo and Xiaomi over the last 5 years. Those brands are crowding Apple and Samsung out of the market, especially as some of the local brands cultivate an image as cheaper and relatively high quality alternatives to the costly foreign brands.
Apple's latest data was actually slightly better than most were fearing, and saw its global iPhone sales drop by 15 percent to just over 40 million units. (English article; Chinese article) The big drop for iPhones, Apple's best selling product, caused revenue to fall nearly 15 percent to $42 billion, while profits fell even faster nearly twice that rate, down 27 percent to $7.8 billion in the quarter through the end of June.
Apple doesn't break down its Greater China sales by different products, but it's probably safe to say that a big portion of the 33 percent sales drop for the region was caused by declining iPhone sales. That decline led Apple to post $8.85 billion in Greater China sales for the quarter, behind $9.64 billion for Europe and nearly $18 billion for the Americas.
We have yet to see any broader industry data for this year's second quarter, but IDC earlier reported that smartphone shipments in China grew just 2 percent in the first quarter, and the growth was expected to stay at that level for the entire year. IDC said China iPhone sales fell about 19 percent in the quarter, so it's probably safe to assume the sales decline accelerated in the latest quarter.
Rise of the Domestics
So, if Apple is losing out so badly in China, then who is it losing out to? I've discussed that question before, but the biggest winner appears to be the fast-rising Huawei. As someone living here in China, I hear friends and acquaintances say with growing frequency that they're planning to ditch their iPhones and buy Huawei models for their next new purchase. Then of course there are the millions of people who actually already own Huawei models.
In a country where "made in China" used to be a symbol of low class and no one wanted to admit owning such domestic brands, perceptions are changing fast. Huawei has become something of a status symbol, and there's a certain element of pride among many Chinese that one of their own brands is finally getting global recognition.
At the same time, a couple of other brands, Oppo and Vivo, are also growing quickly, with China sales nearly tripling for the former and more than doubling for the latter in the first quarter. Huawei's sales also jumped by nearly 50 percent during the quarter, making it the market's largest player, followed by Oppo and then Vivo, with Apple in fourth. (IDC release)
China is a notoriously fickle market, and today's hot brand can often become tomorrow's dud. One very early case of that was TCL, whose name suddenly rose to prominence about a decade ago amid talk of a rise of Chinese brands, only to vanish almost as rapidly. More recently a similar trend has played out with Xiaomi, a former trendy superstar whose meteoric rise led some to liken it to Apple, before the company suddenly stumbled onto hard times over the last year.
Throughout all that change, Apple has been one of the few names that's been able to maintain its market position, albeit with some ups and downs. The same could happen this time and its share could grow again. But it's also quite possible that things are different this time due to the mature nature of touch-screen smartphones that Apple pioneered but are now quite common, making it easy for anyone to enter the field.
Accordingly, Apple may have to find some major new breakthrough technology if it wants to regain its market-leading position. Otherwise it could find itself in a rapid state of decline in China, as it gets overwhelmed by similar domestic models that offer comparable levels of quality at far lower prices.
Related posts:
(NOT FOR REPUBLICATION)
(Visited 122 times, 1 visits today)