RETAIL: Yum, McDonald China Spin-Offs Advance, Offer New Template
Bottom line: Yum and McDonald's are likely to complete spin-offs of their China units by year end, offering a new business template for multinationals that should be encouraged with incentives from Beijing.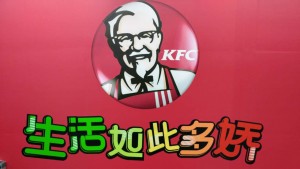 Separate plans by fast food giants KFC and McDonald's (NYSE: MCD) to spin off their China businesses into separate companies were in the headlines last week, in a new trend that could see other big multinationals take similar steps to address the market's huge size and unique qualities. Each company is using a slightly different strategy, with KFC parent Yum Brands (NYSE: YUM) choosing a key strategic partner and separate listing for its China unit. By comparison, McDonald's is simply selling its China stores to a strategic partner in a franchise-style arrangement, while maintaining control of its bigger China operations.
In both cases, each company wants to give its China operations strong local partners, and more independence to innovate and respond to challenges in China's quickly evolving retail landscape. China justifies such individual efforts and resources, since both companies count the country among their top 3 global markets and operate thousands of stores there.
Other major multinationals, from retailers like Walmart (NYSE: WMT) and Carrefour (Paris: CA) to banks like HSBC (HKEx: 5; London: HSBA) and construction equipment giant Caterpillar (NYSE: CAT), might consider similar strategies, and Beijing could also take steps to encourage such moves by offering incentives and allowing newly spun-off units to list in China. Such spin-offs would benefit not only the foreign parent, but also Chinese consumers by creating more market-responsive, locally-listed companies whose shares could provide attractive alternatives for domestic investors.
Yum and McDonald's were once pioneers in the Chinese restaurant market, impressing local consumers with their clean and comfortable dining environments, friendly service and western-style food when they first came to the country in the late 1980s and early 1990s. But as the nation's economy boomed, both chains saw their fortunes fade due to growing competition.
Each has also suffered from a number of scandals over the last 5 years over issues like food safety and product labeling, and KFC saw sales plunge in 2013 during a bird flu outbreak. The net result has been stagnating sales, and each company has launched major overhauls over the last 2 years in a bid to bring back consumers with restaurants featuring newer designs, more high-tech features and premium products like fresh-ground coffee.
Local Management
While those efforts are starting to bear fruit, one place where many believe there's still room for improvement lies in management. Many multinationals suffer from similar issues, since most major decisions require approval from headquarters that are continents away and where officials often don't understand the special qualities of the Chinese market. In a bid to address that issue, Yum and McDonald's both announced their different spin-off plans over the last year, with an aim of completing the transactions in the next few months.
KFC started its spin-off plan first, and last week unveiled a new 9-member board for its separate China unit that will be listed in New York. (company announcement) The board includes 7 independent directors, most with strong backgrounds in Greater China. Its chairman will be veteran China investor Fred Hu, a former local Goldman Sachs executive whose Primavera Capital will also invest $410 million in the newly spun off company. The spin-off and new listing are expected to be completed by November 1.
Separately, other media reports said that McDonald's has finalized a field of 3 groups to bid for its approximately 2,400 restaurants in China and Hong Kong. (English article; Chinese article) Each group is anchored by a local Chinese partner, including veteran retailer Wumart Stores (HKEx: 1025), financially-focused conglomerate Citic Group and real estate firm Sanpower Group, which owns several retail-related assets and previously said it was teaming up with Beijing Tourism Group. Sources said that Citic, which is bidding with US private equity partner Carlyle, is the current frontrunner in the contest.
Both Yum and McDonald's are making their spin-offs in a nod to the realities of doing business in China, and also under pressure from investors to improve their performance in the important market. China should welcome this kind of move, and become more active in promoting similar spin-offs.
To encourage that kind of movement, Beijing could take more steps like rolling out tax incentives, and allowing such newly-created China units to list on one of the country's domestic stock exchanges, where valuations are often higher than western markets. Such actions could boost employment and economic activity by helping the companies to thrive, and develop a new generation of top-level managers who can someday help to lead China's own move onto the global stage in the retailing and other sectors.
Related posts:
(NOT FOR REPUBLICATION)
(Visited 120 times, 1 visits today)