RETAIL: New Yum China Eyes Big Store Growth Amid Tepid Profits
Bottom line: Yum's China operation could see profit growth accelerate as it steps up its expansion, providing a boost for its newly listed stock over the next 3-5 years.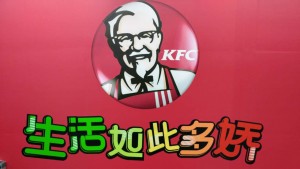 Fast food giant Yum (NYSE: YUM) is kicking off a publicity blitz in the run-up to the formal spin off of its China business, discussing ambitious growth targets for its biggest global market. It's not surprising that the operator of the KFC and Pizza Hut brands is focusing on the future, since its China data in the present is far from impressive. That includes a surprise same-store sales decline in its latest quarterly report, and unimpressive profit growth of around 15 percent.
The headline figure in the latest reports has Yum's top China executive predicting that its store count in the country could possibly triple over an unspecified time frame, presumably in the next 10-20 years, to as much as 20,000 restaurants. That amount looks quite ambitious but would represent a penetration rate roughly equivalent to that in the company's home US market.
Much will depend on Yum's ability to overhaul its faded image in China, and also to expand into some of the country's smaller cities where incomes lag well behind major metropolises like Beijing and Shanghai. I visited one such town recently in southern Fujian province, and another a couple of years ago in Anhui province shortly after KFC opened its first store there.
Such stores seem quite welcome in these kinds of locations, as they represent a sort of status symbol and also usually have much nicer dining environments than local alternatives. But maintaining the attraction can be difficult as a local economy develops and competition grows, which is what Yum is now experiencing in many of its more mature China markets.
All that said, let's take a look at the latest talk coming from the company as it prepares to separately list its China unit with trading set to begin on the New York Stock Exchange on November 1. Yum China chief executive Micky Pant gave the 20,000 restaurant figure in an interview with Reuters, saying he didn't see any reason why the number was unattainable. (company announcement; English article)
Low Penetration
Yum currently has 7,300 KFC and Pizza Hut restaurants in China, and is planning to bring its Taco Bell chain to the country soon as  part of a global expansion for the brand. The current figure represents about 4 KFC stores per million people, or about one-third of the 13 stores per million people in the US, according to one analyst's estimate.
That same analyst said Yum could possibly double its China penetration rate to around 9 percent, though Pant was more optimistic and said he could easily see the figure getting to 12 stores. Pant's desire to talk about the future is easy to understand, since Yum went through a long period of same-store sales declines in China due  to a number of factors like food safety scandals and  growing competition. It finally returning to same-store growth last year, though its estimated China profit growth of 15 percent also doesn't look that impressive for such a vast market.
Yum certainly isn't the only one facing pressure in China. US rival McDonald's (NYSE: MCD) is also fighting to revive its brand, and is currently in talks to sell its China stores to a local owner. Yum China says it won't move in a similar direction once its current spin-off is complete, even though its US parent prefers such a model. The kind of franchising arrangement removes a major capital expense, and allows companies to focus on brand and product development rather than store construction and operation.
Regardless of its model, Yum is clearly aiming to accelerate its new store openings in China, and I do expect we could see more of those coming soon in the kinds of mid-sized and smaller cities I described above. On the whole the outlook is probably modestly upbeat for Yum China, which may be able to boost its profit growth to as high as 30 percent after the spin-off. That could bode well for its newly listed stock, at least over the next 3-5 years.
Related posts:
(Visited 132 times, 1 visits today)