INTERNET: Alibaba Appetite Grows for Food Delivery, Pirates
Bottom line: Alibaba is placing its take-out dining service bets on Ele.me with its new $1.25 billion investment, and will spend other major resources next year to try to clean up its sites of trafficking in fake goods.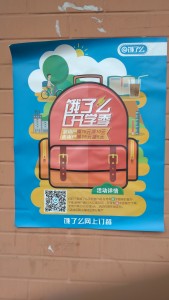 E-commerce juggernaut Alibaba (NYSE: BABA) is back in the M&A market, gobbling up a headline-grabbing 28 percent of leading online-to-offline (O2O) take-out dining service Ele.me for a tidy $1.25 billion. Alibaba has yet to confirm the deal, which would become the latest in a growing string of investments worth $1 billion or more for the company. A deal of this size would have been major news just 3 years ago before a wave of M&A began sweeping China's Internet, though now such transactions have become far more common.
Meantime, Alibaba is in another set of headlines in its battle against piracy, with word that it's adding 200 people to the team charged with ridding its huge online marketplaces of trafficking in pirated goods. This particular move comes less than 2 weeks after Alibaba managed to avoid seeing its name reappear in an annual US list of the world's most notorious marketplaces for trafficking in pirated goods. Having dodged that bullet, Alibaba is now showing it plans to get far more serious in tackling the problem next year.
We'll begin with the Ele.me headline, which comes in the hot O2O space that is seeing 3 giants emerge in the market for restaurant food that is ordered and paid for online, and then delivered to customers' homes. Internet leaders Tencent (HKEx: 700) and Baidu (Nasdaq: BIDU) each have bets in the space, the former via its investment in Meituan-Dianping and the latter through its own-brand delivery service.
Alibaba revamped its neglected Koubei take-out delivery service earlier this year to boost its position in the space, but now this new mega-investment appears to show that Ele.me will become its primary vehicle for building up the business. According to the reports, Alibaba will become Ele.me's largest single shareholder with the 27.7 percent stake it receives through this new $1.25 billion investment. (English article; Chinese article)
News of this particular investment first surfaced a month ago, when reports said Alibaba was set to pay $1.5 billion for about a third of Ele.me. (previous post) Both deals value Ele.me at about $4.5 billion, making it the clear market leader. It's slightly interesting that Alibaba ended up buying a smaller stake than the earlier reports indicated, though such changes are relatively common. The tie-up looks relatively shrewd, as Alibaba's e-commerce platforms should nicely complement Ele.me's services, and the new investment will also provide Ele.me with some much-needed cash.
Fight Against Piracy
Next there are the reports that Alibaba will add 200 people to its team tasked with cleaning its sites of trafficking in pirated goods. (Chinese article) The announcement comes from the head of Alibaba's newly created platform governance team, and also just a week after the company named a well-connected and experienced former US prosecutor to head its global anti-piracy efforts. (previous post)
The newly named head of the platform governance team, Zheng Junfang, is discussing many details of the kinds of steps he will take to address piracy, following a difficult year that saw Alibaba strongly criticized by both Beijing and Washington. Beijing issued a report early this year admonishing Alibaba for rampant piracy on its Taobao site. Washington delivered a stern warning at Alibaba to clean up its act 2 weeks ago despite leaving the company's name off of its latest annual "notorious marketplace" report.
The timing of Alibaba's 2 latest moves is almost certainly tied to the Washington warning, and also aimed at placating officials in Beijing. We're likely to see more such high-profile announcements in the year ahead as Alibaba seeks to make peace with Beijing and Washington on the issue. But at the end of the day, only meaningful reductions in trafficking of pirated goods will satisfy government regulators, and Alibaba could face the very real threat of receiving new admonishments if it fails to sufficiently clean up its sites.
Related posts:
(Visited 77 times, 1 visits today)