ENTERTAINMENT: LeTV Goes to CES, Prepares US Smart TV Launch
Bottom line: LeTV will announce the launch of a new smart TV and video services in the US during the Consumer Electronics Show in last Vegas next month, but the foray will end in failure due to inexperience and fierce competition.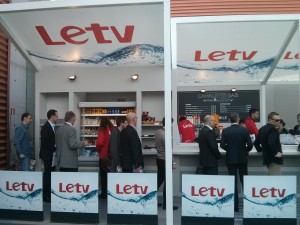 China's LeTV (Shenzhen: 300104) looks set to launch its trademark smart TVs and affiliated video service in the US, a move that would make it the first Chinese player to enter a major western market. In this case LeTV is making lots of noises that point to such a move, though it hasn't officially announced anything just yet.
The company is preparing to attend the massive Consumer Electronics Show (CES) in Las Vegas next month for the first time, providing the perfect venue for such an announcement. The other major signals for such a launch come from LeTV's own recently launched US online mall, lemall.com/us, whose product offerings include a $799 smart TV that is currently not available but "coming soon".
A move to the US wouldn't mark LeTV's first step outside of China, since the company previously launched its service in Hong Kong and was aiming to launch in Taiwan by the end of this year. During a conversation with the company's international chief earlier this year, LeTV also told me it had made some initial contacts with big western telcos including US giant AT&T (NYSE: T) and European leader Vodafone (London: VOD). (previous post)
Such companies could be key partners if and when LeTV chose to enter those markets, as they would provide infrastructure support to help deliver the company's core online video services. Frankly speaking, I'm a bit surprised by how quickly LeTV is preparing to try its luck in the fiercely competitive US market. A few other much larger Chinese names like Tencent (HKEx: 700) and Alibaba (NYSE: BABA) have made previous similar attempts in the last 2 years, and all have ended as major disappointments due to the market's fiercely competitive nature.
All that said, let's review the latest signals that point to a LeTV US launch in the not-too-distant future, and briefly discuss the company's chances for success. LeTV was one of China's earliest companies to deliver video content online. Since then it has used a savvy strategy of selling high-quality smart TVs at relatively low prices, and then using those TVs to direct customers to its popular subscription video services.
LeTV has been trumpeting its plans to attend CES for the last few weeks, saying it intends to show off its products at the world's biggest consumer electronics show that takes place on January 6-9. I previously ran into LeTV's young global team back in March at another major industry event in Spain, but in that case the company was only an advertiser and didn't actually set up a booth to show off any of its products. It's new role as an official event exhibitor this time means it almost surely will announce plans to launch some of its products in overseas markets.
Virtual Reality Headset
Last week LeTV also trumpeted the launch of a virtual reality headset, which is part of its broader drive to build an ecosystem of accessories and services around its core video products. (English article) Like many of LeTV's other accessory-type products, the virtual reality headset was relatively cheap, costing just 149 yuan ($23) and allowing users to watch 3D films viewed through the company's video services.
I went to see if the headset was available on the company's LeMall e-commerce site for US consumers, which was just launched in October. It wasn't there yet, but I did discover the mall has added a few more accessories like speakers and earphones over the last 2 months, all costing $20 or less. But what caught my attention was the one pricey item on the page, namely the smart TV costing $799. (website posting) Also on the site was a palm-sized LeTV set-top box used to channel its service to ordinary TVs, though that didn't include any price or availability date. (website posting)
All those signs seem to point to a big announcement by LeTV about a US launch for its smart TVs and video services during CES next month. As to whether the company will succeed where others have failed, I would say the chances of failure are quite high, even though LeTV probably has adequate financial resources to promote the service. At the end of the day, it has no experience in such a fiercely competitive market where it will have to compete with entrenched rivals that have huge advantages through their superior sales networks and products better suited to local tastes.
Related posts:
(NOT FOR REPUBLICATION)
(Visited 162 times, 1 visits today)