Xiaomi Low-End Assault Set To Sputter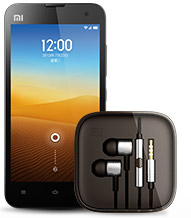 A flood of low-cost smartphones into the China market looks set to accelerate with word that the trendy Xiaomi is preparing to launch a low-end model that will sell for just 1,000 yuan, or about $160. Xiaomi's new phone, called Hongmi or "Red Rice" has been rumored for a while, and was actually supposed to launch in June but ran into unspecified regulator snags. (previous post) Now media are reporting the Hongmi phones could launch this week, adding a new player to an already overheated market for low-end smartphones.
The actual reports cite a launch date of July 30, with a mistakenly posted ad on a China Mobile website quoted as the source of the date and product launch. (English article) I've had a look at the Xiaomi website today, and so far there's no mention of the rumored new phone. The 999 yuan price tag would mark a sharp reduction from Xiaomi's current cheapest product offering, the 2A, which carries a starting price of 1,499.
Xiaomi's entry into the low-end smartphone space would follow a recent flooding of the market with a wide range of cheap rival models from the likes of Huawei, ZTE (HKEx: 763; Shenzhen: 000063), Lenovo (HKEx: 992) and Coolpad. I can personally attest to the fact that such an explosion is taking place, with many more consumers here in Shanghai selecting these cheap and highly functional models over costlier and more prestigious ones from sector leaders Samsung (Seoul: 005930) and Apple (Nasdaq: AAPL).
That explosion has resulted in a big build-up in inventory for these phones, leading market watchers to forecast a round of major price wars in the second half of the year. (previous post) I've previously said that such price wars will ultimately hurt not only recent market entrants like Huawei and Lenovo, but could also take a bite out of the business for Apple and Samsung.
Against all that backdrop, Xiaomi's timing for its low-end Hongmi offering doesn't look too good as the product is likely to struggle to find an audience in the overheated market. It's still unclear why Xiaomi's plans for the Hongmi have hit so many delays, though it appears the company's inexperience at dealing with China's bureaucratic regulators is a major factor. In this case, those delays may cost Xiaomi millions of units in lost sales — a difficult but important lesson for this young company as it seeks to become China's next Apple.
These kinds of growing pains are inevitable for such a young company like Xiaomi, which has also run into previous regulatory obstacles with its Internet TV product launched last year. Despite those occasional setbacks, investors still favor this marketing savvy company, whose founder Lei Jun is quite adept at creating strong campaigns to generate buzz for its new products. Last week media reported that Xiaomi was close to a new mega-funding round worth $2 billion, with investors including Russia's Digital Sky (DST) and Chinese Internet giant Tencent (HKEx: 700). (previous post)
So, what are we likely to see for Hongmi and more broadly for Xiaomi in the rest of this year? I suspect we'll finally see the Hongmi launch sometime in August, but that it could struggle to find an audience due to competition from comparably priced rivals. That could put a damper on Xiaomi's rapid growth in the second half of this year, as the company was probably depending on big sales for the Hongmi to help it meet its aggressive sales targets.
But at the end of the day Xiaomi still looks like an attractive bet due to its strong product development capability, even if it still needs to learn a few lessons about dealing with Chinese regulators. I'd expect to see it close its new mega-funding soon, and for it to post a mild sales slowdown in the second half of the year as it continues its march towards an IPO most likely in 2015.
Bottom line: Xiaomi's new low-cost smartphone is likely to meet with a tepid reception after its launch in August due to recent stiff competition in the space.
Related posts:
(Visited 81 times, 1 visits today)