INTERNET: Didi, Meituan Drive Into Each Others' Turf in Search of Growth
Bottom line: Didi's foray into takeout delivery and Meituan's into private car services look like moves of desperation to make the companies more attractive as they get pressured to make IPOs by the end of next year.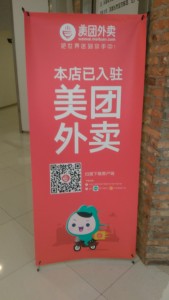 Two of China's biggest unlisted internet companies are in the headlines as the week winds down, each taking a shot at the other's turf. One headline has the Uber-like Didi Chuxing hiring in preparation to launch a takeout dining service like the one operated by Meituan-Dianping. The other has Meituan-Dianping preparing to roll out its own private car services in seven Chinese cities, taking a direct shot at Didi.
The timing of these two news bits is probably coincidental, since I doubt they share information on their strategic planning. What's more, the Meituan move into car services is just an extension of previous earlier news. From a bigger perspective, both items smack just slightly of desperation as these two companies look for growth in the face of stagnating core businesses.
The news also hints that both of these companies are probably eyeing IPOs in the not-too-distant future, probably by the end of next year, and want to have some new growth stories to tell investors before they embark on their road shows. Whether or not they'll find such growth in their chosen new areas is another story, since both areas are already quite competitive.
All that said, let's start with Didi's plan, which is new and has the company hiring for the launch of its takeout dining service in the decidedly second-tier city of Wuxi not too far from Shanghai. (Chinese article) Didi itself isn't commenting on the matter, but the reports cite online ads saying the company is looking for healthy young drivers aged 18-55, with no tattoos. The wages actually look quite good for this kind of work, starting at 10,000 yuan ($1,587) per month.
Didi was previously a high-flyer when it attracted billions of dollars in investment cash, including from Apple (Nasdaq: AAPL), and fought a high-profile war with Uber before merging with Uber's China operations. Since then the company has become far more low-key, as cities like Beijing took steps that severely curtailed its ability to operate. One of my friends here in Beijing said he recently ditched his Didi app completely because it was always so hard to find a car, and instead he now uses an app from a local rival with ties to one of Beijing's major taxi operators.
This move marks the second big one lately by Didi into a new area. The company last year announced it would move into another overheated sector, in that case for shared bicycles, putting it into direct competition with established players Ofo and Mobike. That move also smacked a bit of desperation, since both of those companies are believed to be losing big money.
Didi is still a relatively young company, with maybe 7 or 8 years of history. But its shareholders are probably hankering to get back some of their investment, including Uber, which got shares following its mega-merger. Stagnation of Didi's core car services business isn't a story that many investors want to hear, which is what's likely driving this move into the questionable shared bike and now takeout dining services.
Drive into Car Services
That leads us nicely into the Meituan-Dianping news, which has reports saying the company is planning to roll out its own private car services in seven Chinese cities in two weeks, including Beijing, Shanghai, Chengdu and Hangzhou. (Chinese article) This plan was first disclosed in January, amid reports that the company had been trialing a service for much of the past year. (English article)
Meituan-Dianping is itself a combination of two major companies that merged during an earlier turf battle in the group buying space. The resulting company didn't seem to become all that much more efficient or profitable, perhaps mirroring similar difficulties being faced by US pioneer Groupon (Nasdaq: GRPN). That might explain Meituan-Dianping's somewhat desperate-seeming rush to enter other businesses, including takeout dining and now car services.
I'm not particularly bullish on either of these areas. Takeout dining is a tough business due not only to competition, but the relatively high costs associated, which I described in a post earlier this week. Likewise, car services is also competitive and suffers from high costs and reactive local governments under pressure to protect entrenched taxi services.
I do think that Meituan-Dianping and Didi are making their moves as they come under pressure to make IPOs or potentially even sell themselves by the end of next year. But I doubt these forays into takeout dining and car services will do much to make either more attractive.
(Visited 138 times, 1 visits today)