E-COMMERCE: Alibaba Salivates at Ele.me in 'New Retail' Vision
Bottom line: Alibaba's potential purchase of Ele.me could be the biggest piece yet in its pursuit of a "new retail" model, but could result in a case of indigestion as it tries to make the company profitable.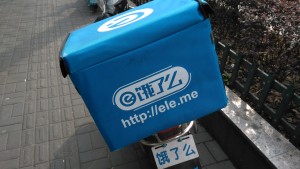 When it comes to acquisitions, e-commerce giant Alibaba (NYSE: BABA) seems to have an insatiable appetite these days. After investing some 80 billion yuan ($12.7 billion) in brick-and-mortar retailing over the last couple of years, the company is now setting its eyes on take-out dining specialist Ele.me, in a deal that could cost it around another $5 billion.
This particular buying binge does seem a bit more focused than Alibaba's previous M&A patterns, which always felt a bit more random to me and covered a wide range of areas. In this instance, the company is pursuing founder Jack Ma's vision of a "new retail" landscape that will combine Alibaba's mastery of e-commerce with more traditional brick-and-mortar retailing.
In fact, this flavor of the day isn't really all that new, and was previously the hot topic when it was known as online-to-offline (O2O) business. But Ma seems to be taking the concept to new heights with his current buying frenzy.
According to the latest headlines, Alibaba is in discussions to buy out the shares in Ele.me it doesn't already own from a series of existing stakeholders.  (English article) One report says Alibaba currently owns about a quarter of the Shanghai-based company, which it acquired in various stages over the last few years, including by helping to finance Ele.me's buyout of a rival service operated by leading search engine Baidu (Nasdaq: BIDU) last year.
Ele.me valuations seem to vary, but the figures I've seen range anywhere from about $6 billion to as much as $9 billion following the Baidu acquisition last year. If those numbers are accurate, that would mean Alibaba would have to pay as much as $5-$6 billion for the remaining stake in Ele.me, significantly raising its M&A spending binge on these third-party retailers to nearly $20 billion.
There's not much more detail in any of the reports, though I did hear one rumor that Alibaba launched the bid as a result of some conditions included in the original purchase of the Baidu takeout service by Ele.me last year. That deal saw the cut-throat industry whittled down to two, namely the new-and-improved Ele.me and a rival service operated by group buying and restaurant ratings specialist Meituan-Dianping.
Jack Ma's New Passion
Whatever the motivation, it's clear that Ma has found a new passion in this pursuit of his "new retail" dream combining traditional retailing with e-commerce and other high-tech elements. In addition to his purchases of supermarkets, department stores and even a big stake in a home improvement chain, Ma has also launched his own high-tech supermarket concept called Hema, and is rolling out a high-tech unmanned convenience store as well. (English article)
I personally like this strategy a bit more than his previous one of moving into a wide range of unrelated areas outside Alibaba's core e-commerce business, many of them in the entertainment space. This particular approach looks a bit more akin to global rival Amazon (Nasdaq: AMZN), which has also delved into the unmanned convenience store concept and made its own big play into traditional retailing with its purchase of high-end supermarket operator Fresh Fields last year.
As to this particular purchase of Ele.me, I should also add that I have a few doubts about the company's longer-term viability. Ele.me basically uses a very high-cost and not very scalable business model due to the legions of deliverymen it employees to deliver cooked meals to people's homes. Adding to the pressure, many of the mom-and-pop restaurants that provide food on the platform already operate on razor-thin margins, and can hardly afford to give away more of their profits to a third-party operator like Ele.me.
One of the reports is saying that Ele.me will help to complement Alibaba's "last-mile" delivery network for bringing goods from stores and big warehouses to people's homes. But frankly speaking, this network already exists in the dozen or so major parcel delivery companies whose vehicles already clog China's streets. Accordingly, I'm not incredibly bullish on the need for or wisdom of this particular acquisition, which could ultimately leave Alibaba with heartburn as it tries to make Ele.me profitable.
(Visited 222 times, 1 visits today)