INTERNET: Baidu Talks De-Listing, Qihoo Chief Naps at Internet Pow-wow
Bottom line: China's global Internet conference this week was mostly empty pageantry, but it did reveal that Baidu might like to privatize from New York one day, and attracted a handful of China-friendly global executives.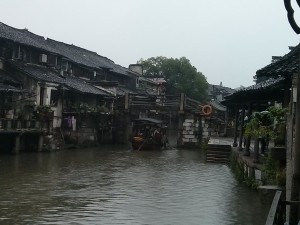 China's big Internet pow-wow this week in the picturesque town of Wuzhen hasn't produced much news despite its big aspirations, reflecting Beijing's tight control over cyberspace and companies that do business there. But the globally-minded event did produce at least one interesting tidbit on the recent privatization wave by US-listed Chinese companies, and also an entertaining photo of 2 top executives that went viral online.
The news item came from Robin Li, founder of leading Chinese search engine Baidu (Nasdaq: BIDU), who hinted that he hopes to someday join the recent wave of Chinese companies now privatizing from New York due to undervaluation. The photo that went viral captured a humorous moment involving a catnap during the conference by Zhou Hongyi, the controversial and more often outspoken CEO of security software specialist Qihoo 360 (NYSE: QIHU).
After previously writing that the second edition of the World Internet Conference was mostly a superficial event without much substance (previous post), I should correct myself and say that a few interesting news tidbits did come from the pow-wow. Earlier I had questioned the conference's claims of being a global event, since the only other mention of a non-Chinese executive I could find in attendance was by Phil Libin, CEO of note-taking app Evernote.
It seems that a few other global names were also in attendance, at least according to various media reports. Those included Reid Hoffman, co-founder of business networking site LinkedIn (NYSE: LNKD), which has been aggressively trying to build up its China presence;  and Jerry Yang, co-founder of Yahoo (NYSE: YHOO) and a good friend of Jack Ma, founder of e-commerce juggernaut Alibaba (NYSE: BABA), who also attended and gave a speech at the event.
But other than those 3, it does appear that most major western executives stayed away from the event, at least based on the media reports. That list of no-shows would include such China-friendly executives as Facebook (Nasdaq: FB) founder Mark Zuckerberg and Apple (Nasdaq: AAPL) CEO Tim Cook, who have made numerous trips to the country in the last few years.
It's unclear if those executives were absent because they simply weren't invited, though I do suspect they probably avoided the conference due to the sensitive issue of China's strong Internet censorship rules. In Zuckerberg's case, he also may have chosen to stay at home to help take care of his new daughter.
Evernote, LinkedIn Execs Attend
The event did include attendance by all of China's top Internet leaders, including Robin Li, who gave some semi-cryptic remarks in response to a question about the recent wave of Chinese Internet companies privatizing from New York. Li made headlines in September when he threatened to de-list Baidu, though at the time I called the move mostly an empty gesture that showed his frustration with US investors. (previous post)
Now the latest reports cite Li saying current conditions on China's markets don't permit his company to come home to re-list, but that Baidu is preparing for such a moment. (Chinese article) If that statement sounds slightly cryptic, it's because Li probably uttered it quickly and without much thought. After all, other companies are making such a move, with formerly US-listed advertising specialist Focus Media and game operator Giant Interactive close to or realizing such a homeward migration.
What Li probably really means is that he would ultimately like to make a move when the process becomes better defined and easier to accomplish. Both Focus and Giant are making the move using backdoor listings with shell companies that are already listed in Shenzhen, which is hardly an ideal path. At the same time, Baidu's large market value of nearly $70 billion would make such a buyout quite difficult due to its large size, and any such deal would probably be the biggest Internet privatization of all time.
We'll close out this post with the entertaining photo of Qihoo's napping Zhou Hongyi, who is far better known for his outspoken ways that include frequent trash-talking of his rivals. Zhou showed his own sense of humor by re-posting the photo on his own microblog, which shows him cat napping at his seat during a conference session as an amused and also somewhat tired-looking Lei Jun, the similarly talkative CEO of smartphone maker Xiaomi, looks on. (microblog post)
Zhou's post is accompanied by his rather humorous comments wondering who took the photo, and quickly admitting he fell asleep and asking if anyone knows what happened while he was napping. The photo was all over the Internet and my own WeChat account, partly because it contained the 2 big executives. But it also captured a certain fatigue that many people at the conference probably felt, and also a sense of theater surrounding an event that was heavy on pageantry and appearances but much lighter on substance.
Related posts:
(NOT FOR REPUBLICATION)
(Visited 100 times, 1 visits today)