FINANCE: Visa, AmEx Follow Apple Into China with UnionPay Tie-Ups
Bottom line: Vague new tie-ups by UnionPay with Visa and American Express could be followed soon by deals that could finally allow the US financial giants to offer yuan-based credit card services in China using UnionPay's network.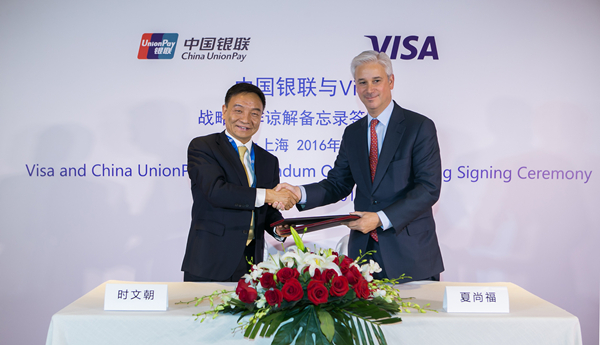 Just a week after Apple (Nasdaq: AAPL) launched its Apple Pay service in China, fellow US financial giants Visa (NYSE: V) and American Express (NYSE: AXP) have just announced their own new China tie-ups with the same local partner. That partner, UnionPay, has been eager to announce a growing string of alliances with major foreign financial partners, all of whom are eagerly eyeing its status as monopoly operator of China's only network for settling domestic financial transactions.
In this case the new separate strategic tie-ups between UnionPay and Visa and UnionPay and AmEx look mostly superficial, since the US giants clearly have far more to offer than their Chinese peer in terms of technology and experience. But Visa and AmEx are probably hoping the tie-ups could serve as a spring-board to accelerate their drive into China, as each eagerly awaits a license to offer domestic payment services in the country.
UnionPay was founded more than a decade ago, and for most of its life has enjoyed a monopoly on settlement for domestic payment services in China using the local currency, the yuan. UnionPay operates a network similar to Visa's Plus and MasterCard's (NYSE: MA) Cirrus systems, and has been aggressively expanding into western markets to take advantage of the boom in Chinese traveling abroad.
But Beijing has been far less generous in giving Visa, MasterCard and AmEx access to offer similar services in China, and most domestic transactions that are settled in the yuan are conducted over UnionPay's network. But all that is set to change soon, following a World Trade Organization (WTO) ruling 4 years ago that said China had to open its market to foreign rivals. (previous post)
Apple became the first to offer such services when it launched its Apple Pay in China last week. UnionPay has also announced a similar tie-up with Korea's Samsung (Seoul: 005930), which is likely to launch a similar service connected to its popular smartphones later this year. (previous post)
Visa, MasterCard and AmEx want similar licenses, and Beijing has indicated they might get them later this year. But even after they receive licenses, they must wait another 3 years before they can offer yuan-denominated services, under China's tough banking rules that require a similar waiting period for all foreign financial institutions in China.
Shorter Wait?
Against that backdrop, these 2 new alliances look significant because Visa and AmEx could be eyeing them as a way to shorten the 3 year waiting period. There's not much of substance in the actual announcements. The one with Visa says the pair have signed a memorandum of understanding (MOU) to cooperate on payments security and other innovation. (company announcement; English article; Chinese article) The AmEx announcement is even vaguer, saying only the 2 sides have signed a similar MOU to explore opportunities inside and outside China. (company announcement)
The fact that these 2 announcements came out at nearly the same time doesn't look like coincidence, and resembles the earlier timing for the 2 tie-ups with Apple and Samsung. That shows that UnionPay is keen to show off its monopoly status by signing on with all of these big-name partners, and also probably wants to try to make friends with these companies before they become potential rivals in the next 5 years.
As I've said above, Apple, Samsung, and now Visa and AmEx may all be looking at UnionPay as a partner that can help them shorten the 3 year waiting period imposed by Beijing. Apple has already shown that's possible with its Apple Pay launch, which relies on UnionPay's network to settle transactions and thus apparently is exempt from the 3 year waiting period. I suspect Visa and AmEx may try to negotiate similar arrangements, as the foreign companies move closer to their long-awaited goal of getting access to China's massive market for financial transaction settlement services.
Related posts:
(NOT FOR REPUBLICATION)
(Visited 226 times, 1 visits today)