FINANCE: Tencent Payments Take Off, Alipay Steps Up Asia Drive
Bottom line: Tencent's new disclosure that it processes more than 500 million daily mobile financial transactions highlights its rapid growth in the space, pushing market leader Alipay to accelerate its own expansion into Asia.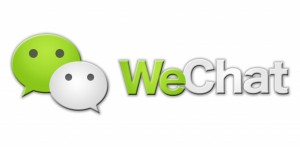 It's rare to see Internet giant Tencent's (HKEx: 700) tech-savvy but reclusive chief Pony Ma do interviews or make public appearances, so when he does it's always reason to take notice. In this case Ma has disclosed new figures that show just how rapidly Tencent is moving into the mobile financial transactions business, rapidly encroaching on an area previously dominated by Alibaba (NYSE: BABA) affiliate Alipay. A separate headline also reflects to some extent the pressure that Alipay is feeling, with reports that its parent Ant Financial is accelerating its recent move into several major Asian markets.
I'm probably a good example of how many people in China have rapidly embraced electronic financial transactions using their mobile phones. Since discovering Tencent's wallet service on my WeChat account last year, I have started using it to pay for all kinds of things, from store purchases to electric bills and people who do work for me. Many of my transactions are small, often under 50 yuan ($7), and collectively I probably do 20-30 such transactions each month. Alipay's mobile payments service is even older and more popular.
If you multiply my personal figures by the several hundred million people who use WeChat and its older QQ sister service, it's not difficult to understand Pony Ma's latest disclosure that Tencent now processes more than 500 million financial transactions each day. (Chinese article) Ma disclosed the figure in a speech at an event in Guizhou province, and added that more than 2.5 billion money-containing holiday red envelopes, or hongbao, were exchanged on Tencent's social networking platforms on the Lunar New Year's Eve in February to welcome the Year of the Monkey.
Most of Tencent's transactions are coming over WeChat and QQ, which now have about 850 million and 700 million active users, respectively. Probably only a small fraction of those use the wallet products on each platform. But even if the figure is just 5 percent, that would translate to a heft 80 million users. And I suspect the figure is probably a bit higher, perhaps between 10 percent and 15 percent.
Tencent doesn't generally disclose anything about profitability of its financial services, probably because they're losing lots of money. Tencent doesn't charge transaction fees to WeChat and QQ users for most of those services, even though banks charge fees and the huge transaction volumes put big requirements on its networks. But that said, Ma and Tencent are being quite savvy at building up their user base and people's reliance on their products, and I'm sure they will eventually find many ways to monetize the business.
Ant Marches Into Asia
Alipay was in a similar money-losing situation for years after its start-up a decade ago, but is now believed to be quite profitable and is the main asset of Ant Financial, which was spun off from Alibaba around 5 years ago. Alipay has been coming under growing pressure not only from Tencent, but also the state-owned UnionPay. It is also bracing for new pressure as China prepares to let global giants Visa (NYSE: V) and MasterCard (NYSE: MA) into the domestic payments market possibly later this year.
In anticipation of the growing competition at home, Ant is seeking or has already received licenses to provide various financial services in Hong Kong, India and South Korea, an official said in an interview with Bloomberg. (English article) The official said Ant is also looking into other unnamed Asia Pacific markets as it quickens up its global expansion.
Various moves by Ant into Hong Kong, Korea and India have been reported before, mostly in the form of acquisitions, investments and other tie-ups. But the interview nicely summarizes Ant's ambitions to go regional in the run-up to its planned IPO that could come as soon as this year. The regional drive also reflects the growing pressure Ant is feeling at home from Tencent in the huge Chinese market for mobile-based financial transaction services.
Related posts:
(NOT FOR REPUBLICATION)
(Visited 423 times, 1 visits today)