E-COMMERCE: Alibaba in Korean Cloud, Ant Flooded in Funds
Bottom line: Alibaba's new cloud tie-up shows that Korea is a primary market for its global expansion, while the new $4.5 billion funding for its Ant Financial affiliate could be followed by an IPO within the next 12 months.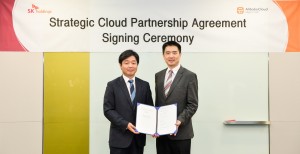 E-commerce giant Alibaba (NYSE: BABA) is in a couple of major headlines today, led by word that its Ant Financial affiliate has just raised a whopping $4.5 billion in only its second-ever funding round. That particular story has been rippling through the headlines for a few weeks now, and is most notable because the deal is finally done and is triple the company's original fund-raising target.
The other headline has Alibaba itself in a new deal to launch cloud computing services in South Korea, working in a partnership with a unit of local telecoms giant SK Telecom (Seoul: 017670). This particular deal is interesting because it represents Alibaba's recent search for global growth stories, in a bid to satisfy investors worried about a slowdown in its home China market.
South Korea has emerged as one of Alibaba's leading targets in that overseas growth story, banking on geographic proximity to China and growing popularity of Korean goods among Chinese consumers. As someone living here in China, I can personally testify to the booming popularity of Korean products and services, thanks to a flood of interest by local consumers in the country's pop culture including its music, TV shows and movies.
That interest has fueled a nascent boom in cross-border e-commerce between the 2 countries, which appears to be the main target of Alibaba's new tie-up with SK Holding C&C. (English article; Chinese article) The move is part of Alibaba's bigger announcement last year that it would spend $1 billion to expand its cloud hosting services globally, copying a strategy from the playbook of  US e-commerce rival Amazon (Nasdaq: AMZN).
Alibaba has already set up data centers for cloud services in the US and Singapore, though this new deal won't see it set up such a center in Korea just yet. Instead it appears that SK will provide the actual data centers for Alibaba's cloud hosting services, which will be customized and targeted for Korean firms that want to sell to Chinese consumers.
Alibaba's name has appeared in a flurry of Korea-related initiatives over the last couple of years, though I personally can't recall any major deals being signed. But the company is clearly eyeing the market due to growing cultural and trade ties. Its Ant Financial affiliate was in related headlines late last year when it joined a local group that became one of the first license winners for an Internet bank in the country. (previous post)
Funding Feast for Ant
That headline makes a nice transition into the much bigger story involving Ant, which has just closed the $4.5 billion funding deal that is the largest ever for a private Chinese Internet company. (English article; Chinese article) Investors in the deal are mostly big domestic companies due to Beijing's restrictions on foreign ownership of Chinese financial firms. They include Chinese sovereign wealth fund China Investment Corp (CIC) and a unit of big state-run lender China Construction Bank (HKEx: 939; Shanghai: 601939).
As I've said already, this particular deal has been in the headlines for at least the last few weeks, and the most notable thing about the latest reports is the huge size of the final figure. Ant, whose core asset is its Alipay electronic payments service, was originally seeking to raise just $1.5 billion in this round, only its second ever since it was split off from Alibaba as a separate company in 2011. (previous post)
Thus the final amount is 3 times that original target, testifying to Ant's huge growth potential even though this deal was largely closed to foreign investors. It valued Ant at about $60 billion. With this particular funding now closed, Ant is likely to start shopping for investment banks to underwrite an IPO that is its next target, and is likely to be a dual offering in Hong Kong and China within the next 12 months.
Related posts:
(NOT FOR REPUBLICATION)
(Visited 230 times, 1 visits today)