Shanghai Street View: Untapped Water World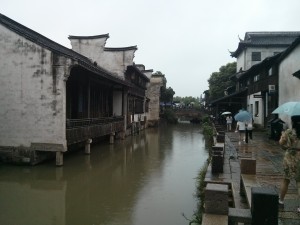 Stories of 2 accidents onboard cruise liners visiting Shanghai are shining a spotlight on the city's abundant natural water resources and their big potential as attractions for both out-of-town tourists and local visitors. Shanghai truly has some of China's most scenic and varied water resources, ranging from the quaint Suzhou Creek up to the mighty Pacific Ocean, all within easy driving distance.
But many of those resources remain woefully underdeveloped and underpromoted, resulting in a huge lost opportunity for our city. As a longtime resident, I seldom visit any of these scenic spots or take my out-of-town visitors to see them, even though I've considered doing so from time to time. Part of the reason is my own laziness, but another part is lack of must-see attractions and lackluster promotion.
Our city could take a lesson from similar peers like Hong Kong, Venice and even New York, which have developed much richer sea and river cultures that make their many water-based attractions a major draw and an integral part of their civic identity.
Even Shanghai's name reflects its rich water culture, meaning "on the sea" in English. But few non-Chinese speakers would know that because the city never bothers to tell anyone. Even many Chinese probably never stop to think about the derivation of the name of China's largest city.
Despite that lack of awareness and the city's lack of promotion, Shanghai has slowly been finding a place on the global map for some of the world's largest ocean cruise companies. Several of the world's biggest names have added stops to the city in the last few years, and some have even dedicated ships to sail on the Chinese coastal route in a bid to win business from the nation's growing middle class.
Those efforts earned the growing industry a place in the headlines this week, after 2 accidents aboard cruise liners spotlighted the need for strong response systems to handle emergencies that inevitably come with the turf. One of those saw a 29-year-old woman accidentally drown in a swimming pool aboard a liner operated by Princess Cruises. The other saw a pregnant woman on a Royal Caribbean ship start to bleed unexpectedly, resulting in her helicopter evacuation to a hospital. Both cases were being handled according to standard procedures, but each underscores the growing popularity of Shanghai as a port destination for the cruise industry.
Such cruises highlight Shanghai's potential due to its close proximity to the Pacific. But the city could do far more to cultivate that resource, including development of better beaches and seaside resorts like ones in Southeast Asia and throughout the west. It could also develop an industry for daylong sea excursions. Such trips were a popular activity when I lived in Hong Kong, allowing groups of friends to rent out small yachts for the day for onboard picnics, swimming and enjoyment of some ocean scenery.
One of Shanghai's other big water resources is its abundance of canal-lined water towns, with Zhouzhuang and Wuzhen being the 2 most famous examples. Within Shanghai itself, there's also Qibao, which is one of the easiest because it's reachable by subway. These towns are a little better developed for tourism, especially Wuzhen and Zhouzhuang, but are sometimes a bit chaotic and remain relatively underpromoted to out-of-town visitors.
Lastly there are the 2 big resources right in our backyard, namely Suzhou Creek and the Huangpu River. Both of these have huge potential due to their easy access and scenic views of the Bund and Lujiazui along the Huangpu, and the many historic neighborhoods and buildings on the banks of Suzhou Creek. Yet in all my time in Shanghai, I've never done a trip on Suzhou Creek. Likewise, the only time I've ever taken a boat on the Huangpu is on the highly utilitarian ferry that runs between the South Bund and an obscure point in Lujiazui.
Shanghai has made a hodgepodge of efforts to develop these and other water resources, including a boat trip that stops at several points along Suzhou Creek. But many of these aren't well designed, are poorly promoted, or both, meaning they are often underused and do little or nothing to enhance the city's reputation as a tourist destination.
If I were a Shanghai city planning official, I would create a unified department to specifically oversee development of these many varied water resources. I would also give that department an adequate budget to properly do its job, and promote the sites in a unified campaign that spotlights Shanghai's prowess as a city with a rich water culture. Such an effort could help to win Shanghai a bigger place on both the domestic and global tourist maps, and also provide city residents with a wide range of fun places to spend their leisure time and money.
(Visited 51 times, 1 visits today)