Shanghai Street View: Unmemorable Markets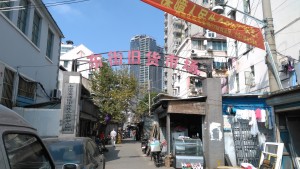 In my native US a telltale sign of a neighborhood in decline is the appearance of wig stores and pawn shops on the local streets. In big Chinese cities like Shanghai, the equivalent seems to be the appearance of makeshift shops and stalls selling old appliances and spare machinery parts. I visited one such Shanghai neighborhood this past week, my curiosity piqued after reading that the historic Dongjie flea market near the Bund was set for demolition.
I'm usually a big supporter of neighborhood preservation, especially when it involves old buildings, as I think such work helps to define a city's distinctive character and local culture. But in this case there really wasn't much to be saved at Dongjie, a fact that many of the merchants who face imminent displacement seemed to acknowledge.
All this raises the broader topic of preservation, and what is and isn't worth saving. Most world cities have the luxury of time when considering specific preservation projects, since it's not often that historic sites and neighborhoods come up for potential redevelopment. But that's not the case in China, since most cities like Shanghai became time capsules of sorts after 1949, and saw very little new development or demolition of old buildings until the 1980s.
That means that cities like Shanghai with lots of old buildings and big demand for new construction are suddenly faced with the daunting task of evaluating thousands of potentially historic sites and quickly deciding what's worth saving and what isn't.
All that said, I wasn't really sure what to expect on setting out to visit the Dongjie flea market set for demolition at the end of next month. The market certainly seemed to meet a certain standard for historic significance, since it was set up 30 years ago when China was just starting to experiment with free markets and private ownership. What's more, Dongjie was the last of 4 such Shanghai markets still in existence, following the shuttering of the other 3 on Qiujiang, Niuzhuang and Zhonghuaxin roads.
No Glamour in Dongjie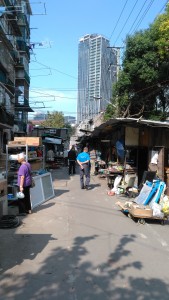 Part of what drew me to the story was the use of "flea market" in an English article describing Dongjie. In the west, the term conjures images of simple but tidy outdoor markets where vendors sell mostly old everyday goods like books, clothing and kitchenware. There's a certain romantic overtone, since such markets are often filled with nostalgia items and also carry the slight but still exciting possibility that you could find something of value in all the piles of old things.
That slightly glamorous image was in the back of my mind when I set out to find Dongjie, in my race to see what was left before its date with the wrecking ball. While trying to find the market off of Fuxing Road not far from Yu Yuan Garden, I figured out the English term flea market had been translated from the Chinese jiuhuo, or old goods. And that's exactly what I found when I finally reached the market.
There really wasn't much of interest there, except for the merchants I described above selling spare parts and old household goods. I had thought that maybe the market would be enclosed and inside, but it was really just an old alley lined with broken-down wooden and concrete shops staffed by older people mostly sitting around doing nothing. A few shops had already even been demolished.
The alleyway brought back memories of a street near the university where I taught in Beijing in the 1980s, where several dozen vendors sold clothing out of similar stalls. Back then such streets were considered cutting edge, representing some of the earliest privately owned businesses where shoppers could find products that were selected and sold by people who were actually trying to figure out what was fashionable, trendy and would sell. By comparison, the big state-owned shops were mostly gray, poorly lit and filled with stodgy older merchandise, and most of the time you had to beg fickle employees just to sell you anything.
I talked with a few of the merchants at Dongjie, and all seemed resigned to their looming dislocation, even though most didn't know where they would go next. In many ways it seems like there's nothing special about this kind of alleyway, since there's certainly no distinctive architecture. What's more, most of the merchants lack any special skills or wares that would appeal to anyone besides a person seeking a spare computer part or cheap used air conditioner.
Instead, these neighborhoods are probably more significant for the early entrepreneurial spirit they represented when China and Shanghai first began experimenting with market reforms. That sort of history certainly seems worth saving, though I'm not sure how someone would do that. Perhaps a major overhaul of Dongjie could have accomplished that goal if someone gave it any thought. But at this point the market really does seem far past its prime and is unlikely to be missed by anyone.
(Visited 167 times, 1 visits today)