Shanghai Street View: Reclaiming Hairy Crabs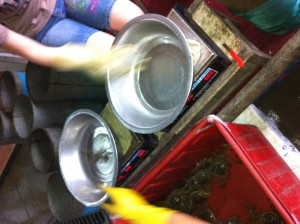 I'm a big fan of hairy crabs, not so much because I think they taste good but because the delicacy represents a storied Shanghai tradition that can attract headlines not only locally but also from across China and even around the world. Shanghai has far too few of these homegrown major headline-grabbers outside the world of finance, where it has no problem making front page news.
So I was quite excited to recently read news reports from a major "launch" event for this year's hairy crab season, which was attended by a wide number of high-level industry and government officials from the Yangtze Delta area where the industry is based. But then I had to stop and re-read the newspaper report about the event, as it seemed to be coming from somewhere on the Diaoyutai Islands, the source of a long-simmering territorial dispute between China and Japan.
Closer examination of the report revealed the event was actually held at the Diaoyutai State Guest House, the famous Beijing residence where heads of state including Richard Nixon often stayed in the pre-reform era on their visits to China. But wait a minute, I thought. Why on earth was an event so closely associated with Shanghai being held in Beijing?
I didn't need to think too long to come up with the answer. Organizers chose to hold their "2013 Hairy Crab City Congress", an official national launch for the 2013 hairy crab season, in Beijing in order to attract more VIPs and reporters. The event was being held for the second time in Beijing, and was aimed at updating everyone with the latest news on the harvest for this year's crabs that will go on sale at seafood markets throughout Shanghai later this month.
On the one hand, I can understand the decision to hold the event in Beijing, which is China's undisputed media center due to its historical importance as a political hub. But on the other hand, I also strongly believe that other Chinese cities need to be just a bit bolder and more confident about coming out of Beijing's shadow and staging their own events that can attract attention from national and even global media.
Shanghai in particular is well positioned to hold such events, which was one of the reasons I was so disappointed to see the hairy crab launch taking place in Beijing. China's financial hub attracted strong and generally positive worldwide attention for its successful staging of the World Expo in 2010, which drew a record 73 million visitors its 5 months.
But like other major cities in China, Shanghai also suffers from an inferiority complex when it comes to staging major media events – the result of years of domination by Beijing-based central media like Xinhua News Agency, the People's Daily and CCTV. It's only in the last decade that most of Shanghai's major media have been allowed to aggressively pursue stories outside their home market. And despite their experience at the World Expo, city officials remain woefully underconfident about their ability to hold world-class media events.
As a former international correspondent, I have firsthand experience with Beijing's dominance of foreign media coverage in China. During my days reporting for Reuters in Shanghai in 2005 and 2006, I was one of relatively small group of around 100 foreign correspondents living in the city at that time – a fraction of the hundreds of foreign reporters in Beijing.  The situation is somewhat better for domestic media, with many major regional newspapers opening Shanghai bureaus in recent years.
But Shanghai's bigger problem lies in its lack of confidence. Unlike other cities in China, which really would have trouble attracting national or global coverage to any local event, Shanghai has enough locally based out-of-town reporters to stage a broad range of important events, as evidenced by strong recent national and even global interest in the city's new Free Trade Zone and Disneyland.
Now city officials need to discard their shyness and show the rest of China and the world that Shanghai is more than just a financial hub, and is also a leader in both traditional and new culture. Hairy crabs would be a great place to strike this new tone of confidence, as these odd-looking crustaceans are arguably one of Shanghai's biggest and most famous cultural attractions. Not only are they and the crab-raising culture around them physically and descriptively colorful, but the crabs also attract strong interest from as far afield as Hong Kong, Japan and Singapore.
While Shanghai may have missed the boat by allowing Beijing to host the hairy crab launch this year and last, I sincerely hope local officials will be more aggressive in 2014. A major part of their efforts should be the return of the crab season launch to its home in Shanghai, where the city can showcase this unique form of local culture to audiences both across China and around the world.
(Visited 50 times, 1 visits today)