Shanghai Street View: Dressing Up Drive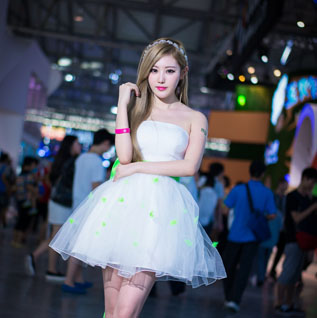 The dog days of summer may be descending on Shanghai, but one place that won't be too steamy this year is the city's annual game fest, formally known as ChinaJoy, that takes place in July. The organizer of the country's biggest gaming trade show has thrown cold water on people who attended in the past to ogle scantily clad models, saying it will enforce a strict dress code at this year's edition.
This particular move follows a similar ground-breaking prohibition on excessive skin at the Shanghai auto show last year, a move that was greeted with cheers from true car enthusiasts but boos from some who said it dampened the show's festive atmosphere. I tend to side with the former group, and applaud this broader movement that's trying to clean up our business culture here in Shanghai and make it more professional and globally respectable.
As someone who occasionally tries to do business in China, albeit on a small scale, I find the frequent lack of professionalism one of the most frustrating and discouraging factors. My frustrations are felt on a much grander scale by many other foreigners, who complain that doing business in China often requires them to engage in unsavory practices like lavish gift-giving and taking clients to clubs where women wear even less than models at the Shanghai auto show and ChinaJoy.
ChinaJoy has become a part of the summer landscape here in Shanghai, and is arguably one of the world's biggest gaming shows due to China's own status as one of the world's top gaming markets. That fact has been on prominent display with the phenomenal success here of a recent movie based on the popular "World of Warcraft" game series. The film has been panned in the west, but has done quite well in China, earning more than 1 billion yuan ($150 million) in its first 5 days at the box office, thanks to attendance by legions of fans of the online game, including some who have played for a decade or more.
I personally attended ChinaJoy several times in my reporting days nearly a decade ago, though I have to admit I was more impressed by all the people dressed up as characters from their favorite games rather than the skimpy clothing. But it seems the show has dressed down in recent years, prompting this latest dress code decision by organizer Howell International Trade Fair.
A Howell spokesman said actual dress guidelines for this year's show, which opens on July 28, are still under being finalized. But the broader idea is that a strict dress code will be enforced, aimed at making the event more professional while still maintaining a certain level of fun. To show it's serious, Howell will levy fines of up to 10,000 yuan on people who reveal too much skin at the show.
Trend Setters
It's possible the city of Shanghai pressured ChinaJoy to make this switch, though I like to believe the organizer felt secure in taking the initiative by itself following the landmark move by the Shanghai auto show last year. That kind of momentum often occurs in the business world, where one or two trend-setters take the lead on particular issues, emboldening others to follow suit.
Mainland China certainly isn't the only place to use such tactics to boost attendance at big trade shows do business in general. One of my earliest impressions of Taiwan and Hong Kong in the 1980s was the multitude of skin just about everywhere, including on clothing and other daily knick-knacks, as well as at trade shows and numerous night clubs. China was still quite innocent back then but has played rapid catch-up over the last decade, even as Hong Kong and Taiwan have dropped many of those practices.
At the end of the day, this is really a story about business culture and what's required to do business in different parts of the world. In the US, a certain amount of wining and dining is still required, and trips to bars and even nightclubs are still part of the culture in certain sectors like investment banking and the many related industries on Wall Street. But in China this kind of practice seems much more common, especially gift giving that is often a thinly veiled form of bribery. Obviously the skimpy models at trade shows are a slightly different matter, but they also reflect a broader business culture that sees no problems mixing business and personal matters.
All that said, I'm quite encouraged that ChinaJoy is following the lead of the auto show and trying to be a little more professional in the way it does business. I'm still waiting for signs of similar progress with the many smaller companies that I deal with on a more daily basis, and hopeful that signals like this will ultimately trickle down and become part of a new, more professional business culture not only here in Shanghai but also throughout China.
(Visited 195 times, 1 visits today)