RETAIL: Yum China Looks Flat in Maiden Report
Bottom line: Yum China's maiden quarterly report and $300 million share buyback program highlight a company that needs to move more aggressively and take more risks to regain its footing after being spun off from its US parent.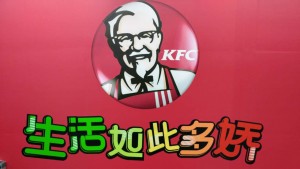 Fast food operator Yum China (NYSE: YUM) has just put out its maiden quarterly earnings report that looks decidedly ho-hum, including a somewhat surprising announcement of a $300 million share repurchase program. The operator of KFC and Pizza Hut stores in China was formally split off from its parent, Yum Brands (NYSE: YUM), late last year, following shareholder pressure to let the unit operate more independently in the somewhat unique and fast-changing Chinese market.
This initial quarterly report shows just why Yum China needs more independence from its parent, as the numbers really are nothing to crow about. Investors were braced for some less-than-encouraging news, bidding down the company's shares by 2.4 percent in the regular trading session on Tuesday in New York. They bounced back slightly in after-hours trade when the actual data came out, but even so were just up about 1 percent from their close.
Leading the news was announcement of the share buyback, with Yum China saying its board had authorized the company to repurchase up to $300 million worth of company stock. (company announcement) That's hardly encouraging from a company that has just listed, since it signals that management believes the stock is already undervalued just 3 months after its debut on November 1 last year.
The company didn't give any comment in announcing the buyback, which isn't too uncommon in this kind of case. And the fact of the matter is that the $300 million is just a tiny fraction of the company's total market value of $10.8 billion. Still, the announcement of such a move so close to the company's new listing seems to indicate a certain level of frustration among management about investor sentiment.
Mixed Figures
It's not difficult to see why investors might be worried, at least based on the new decidedly mixed figures that seem to show a company in transition and also one with a possible identity crisis. The most revealing figures were a 3 percent decline in overall fourth-quarter revenue to $3 billion, and flat same-store sales. A revenue decline is never a good sign, and neither are flat same-store sales in a dynamic market like China.
In this case we also have the luxury of full-year figures, which allow a better comparison of how things are trending. In the case of revenues, the full-year figure was down by 2 percent, indicating the decline accelerated in the fourth quarter. Same-store sales were also flat for the entire year, indicating no improvement but also no deterioration on that front.
But perhaps somewhat worryingly, same-store sales at the company's core KFC chain were only up 1 percent in the fourth quarter, which was sharply lower than the 3 percent gain for the chain for the full year. That would seem to indicate that recent momentum at the chain is already starting to slow, following an overhaul dating back nearly 3 years to try and breathe new life into the struggling brand.
The company said that improving same-store sales growth is a top priority, and pointed to some of the things it's doing to bring customers back to its brands. I've personally visited some KFCs and Pizza Huts since the overhauls, and they admittedly do look a little fresher and more updated than the tired stores from before that time. The company is also rolling out its Taco Bell chain in China, though it's still too early to say if that effort will add any meaningful new momentum.
The bottom line is that Yum China is really still in a period of transition, and rightly realizes that investors may be skeptical of its ability to post consistent same-store sales growth. My view is that it's probably still too early to say if it can succeed as an independent company, and that we probably need to wait at least until the end of this year to make a more definitive judgment.
After all, the company's management has been freed from its US headquarters for only 3 months now and thus hasn't had many chances yet to show how it will behave differently as an independent company. The latest numbers, in large part, probably reflect the old Yum China rather than the new one. But if the company wants to right its ship, it will need to move more aggressively going forward and take more risks than it did before, even if that means having to swallow the occasional dud.
(Visited 149 times, 1 visits today)