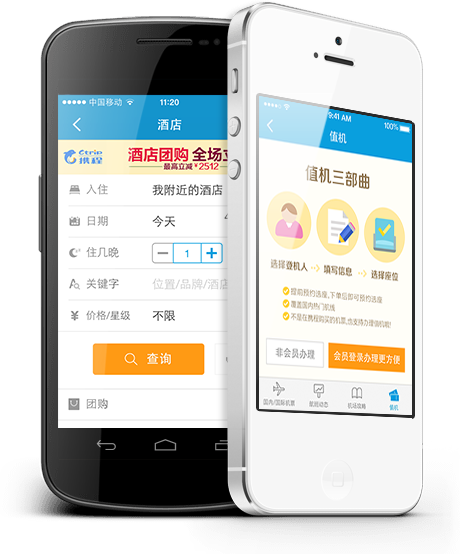 A new announcement from leading online travel services firm Ctrip (Nasdaq: CTRP) is showing just how important a strong mobile strategy is to the future of Internet companies in China, where legions of consumers now surf the web over their cellphones. Ctrip's announcement shouldn't come as a huge surprise to anyone who follows the sector, since most major Internet firms have specifically designated mobile as a key priority area for future growth. Robin Li, founder of leading search company Baidu (Nasdaq: BIDU) early this year officially put himself in charge of the company's mobile division (previous post); and e-commerce leader Alibaba has also embarked on a major acquisition spree this year with mobile technologies as one of its main focuses.
Against that backdrop, let's take a look at the latest Ctrip announcement, which admittedly is largely a promotional news release talking about its mobile app that helps travelers book hotels and plane tickets over their smartphones. (company announcement) The most interesting thing about this announcement is Ctrip's disclosure that mobile bookings have already accounted for the largest single portion of its business at some times, outstripping its other 2 traditional and much older sources of bookings via desktop computers and over the phone.
According to the announcement, Ctrip's mobile app accounted for as much as 40 percent of its total booking activity during a recent peak level. More typical levels are a bit lower, with mobile accounting for 20 percent of hotel bookings and 15 percent of air ticket bookings in the second quarter. Those numbers may still be a minority of total sales, but are still quite impressive considering that mobile bookings were probably insignificant just a year earlier.
Anyone living in China will know that this sudden boom in mobile apps is being driven by an explosion over the last year in cheap smartphones being offered by a wide range of domestic players including Huawei, ZTE (HKEx: 763; Shenzhen: 00063), Lenovo (HKEx; 992) and Coolpad. I'm a good typical case, and will openly admit that I spend a lot more time on mobile web surfing since upgrading to a smartphone a few months ago. After all, it's much more time efficient to book a hotel during idle time while sitting on the subway than waiting until I get home to do so.
In Ctrip's case, the mobile strategy looks like a good one and should help it to fend off advances from up-and-coming rival Qunar, which is reportedly planning an IPO as soon as the fourth quarter. (previous post) I've always liked Ctrip for its ability to focus on a few areas related to its core online travel services business, unlike many other Chinese Internet firms whose investment strategies often seem to move them in many different directions outside their main areas. This strong focus on mobile seems consistent with Ctrip's previous strategies, and looks especially smart due to the mobile nature of the travel business.
Investors also seem to like the strategy, bidding up Ctrip shares by around 150 percent over the last year. The company's business had taken a beating in the year before that as Ctrip defended its position against Qunar. But since then it has returned to a strong growth track, with revenue and profit up 28 and 76 percent, respectively, in its latest quarterly results. I would expect Ctrip's mobile unit to become an important driver for its future growth, and wouldn't be surprised to see that part of its business consistently account for more than 40 of all bookings by the end of next year.
Bottom line: Ctrip's strong emphasis on mobile looks like a smart move, and should help it consolidate its place as China's leading Internet travel services firm.
Related posts:
(Visited 97 times, 1 visits today)