4G Coming, But Set For Rocky Road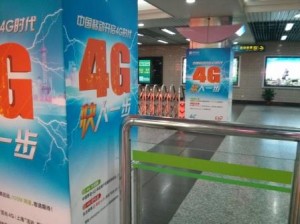 I've been writing with growing frequency about the impending release of 4G mobile licenses, as local media report almost weekly on the latest developments in this highly anticipated event. The latest reports aren't all that exciting, citing a regulatory source saying rumors that licenses will be issued this month are most likely untrue. Meantime, leading telco China Mobile (HKEx: 941; NYSE: CHL) doesn't seem to care about the actual release date, and has already started its own aggressive campaign for advance sign-ups of 4G subscribers in major cities like Shanghai. Amid all this buzz, I thought I'd also take a look at what's ahead for 4G once it actually launches, as I do see a rather bumpy road for the technology in its first year.
Let's start off this 4G overview with a look at the latest media reports that cite an unnamed regulator dampening rumors that licenses will be awarded on September 28, or this Saturday. (Chinese article) The official from the news office of the Ministry of Industry and Information Technology (MIIT) says simply that the reports are most likely false, and there's a 90 percent chance that licenses won't be issued on Saturday. The official adds that final discussions on the licenses are still taking place, hence the lack of a definite release date timetable.
This lack of timetable doesn't surprise me, as the MIIT is notoriously cautious and slow all of its major decisions, and 4G is certainly one of its biggest decisions of this year. I do think the ministry is feeling a lot of pressure to award these licenses soon, as China's 3 telcos seek to roll out services that have already been available for 1-2 years in many major global markets. Accordingly, I do suspect we'll see the licenses finally granted in October, most likely right after the long National Day holiday at the beginning of the month.
China Mobile seems to be anticipating that imminent announcement, as it's already launched its first major drive to sign up 4G subscribers. That marketing campaign was on full display this week in the form of numerous 4G advertisements at the Lujiazui subway station in the heart of Shanghai's financial district. The ads proclaim that China Mobile will soon open the 4G era, which will allow significantly faster speeds for mobile Internet and data users compared with 3G technology. The ads say China Mobile is now accepting advance 4G signs-ups, though no specific dates for a service launch are given.
Most industry watchers expect the MIIT to award licenses in October for only one type of 4G service that uses a homegrown Chinese technology called TD-LTE. They don't expect license awards for a more globally mature standard called FDD-LTE until sometime next year, possibly not until the latter half of 2014.
So with TD-LTE about to launch, what should we expect for the service in its early phase? My guess is that the new service, which will come mainly from China Mobile, will be plagued with problems initially that will ultimately undermine its potential. Such problems are relatively common for new services. This one is especially complex because its unique combination of local and global technologies will create numerous challenges for product developers.
Accordingly, we should look for lots of hype when the licenses finally get announced next month, followed by an equally high-profile marketing blitz by China Mobile. But we can also expect to read about many problems for the new service in its early phase, and I wouldn't expect to see to see more than 10-20 million new sign-ups in the first year of 4G service.
Bottom line: China is likely to issue 4G licenses in the first half of October, but teething problems will limit new sign-ups to 10-20 million in the first year of service.
Related posts:
(Visited 66 times, 1 visits today)